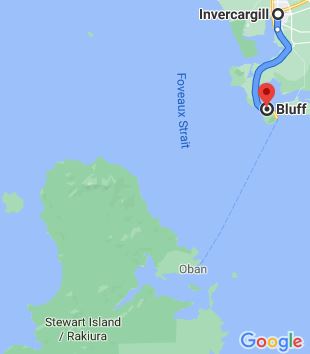 To adhere to our schedule for the day, we had to finish breakfast by 8:15 so we could get to the ferry terminal in Bluff, about 30 kilometres south of Invercargill, in time to catch the 9:30 ferry to Stewart Island. Michael had identified a café near our accommodations that opened at 7:00, but when we arrived at Industry (unusual name for a café) we found it closed for Boxing Day, which, as an official national holiday that fell on a Saturday, was being officially observed on this following Monday. (Had Michael not been wearing a badge identifying him as a missionary for The Church of Jesus Christ of Latter-day Saints, he might have used an expletive when he saw the "closed" sign on the café door.)
Finding an open grocery store seemed the best alternative until we happened to pass a Subway that was open, so although their standard breakfast sandwiches were not exactly what our taste buds had been anticipating, in the interest of time we decided to go for it. We shared a footlong with ham, egg, provolone, and spinach—the latter being an addition that Michael could stomach at breakfast. Nancy asked the girl behind the counter to add capsicums (green peppers) and sundried tomatoes to her half—a bridge too far for Michael.
We arrived in Bluff in plenty of time to park the van and check in at the ferry terminal before it was time to board. We were blessed with another fine, cloudless day, so in the distance, about 24 kilometres (15 miles) across Foveaux Strait, we could see the green, wooded hills of our first destination: Stewart Island. The island is named after William W. Stewart, who was the first European to chart it, back in 1809. Māori of the time called it Te Punga O Te Waka Maui, ("the anchor stone of Maui's canoe"), referring to a popular tale about Maui, the legendary Polynesian demigod. Maui is said to have used the little island to anchor his "canoe" (the South Island) while he and his crew landed a huge "fish" (the North Island). Today Stewart Island is better known in Māori as Rakiura ("land of glowing skies"). It's not only the sun that glows overhead, but also the Aurora Australis—the Southern Lights. Stewart Island is one of the best places in New Zealand to see this natural phenomenon because it's mostly unpopulated and therefore not plagued by light pollution, but as we were visiting the island in daytime, we had to be content with seeing only the glow of the sun.
The one-hour ferry ride terminated in Oban, Stewart Island's largest town, which has a population of about four hundred. Walking up the hill from the wharf, we took the Fuchsia Track toward Observation Rock, from which we got a nice view of the sea, the town, and a little more of the 1,700 square-kilometre (650 square-mile) island's virgin rainforest.
Returning through a community of resort homes to the wharf, we picked up the sack lunches we had ordered as part of our scheduled tour of nearby Ulva Island and sat at a picnic table overlooking Half Moon Bay to eat until it was time to report at the shuttle stop for the tour. The lunches were good: chicken-cranberry sandwiches and the crispest apples we've had in a while. They also included bottles of 100% Stewart Island Rainwater, which is captured, filtered, and sold by workers at the local community center to fund its activities.
The shuttle took us over the hill behind Oban to the wharf at Golden Bay on Paterson Inlet, the largest bay on Stewart Island—a trip that took less than ten minutes. From there we took another ten-minute ride by ferry out to an islet that has been designated as a sanctuary for native flora and fauna. Ulva Island has no permanent human residents these days, although in the past it was the site of a small Māori settlement, and during the late 1800s an even smaller European settlement. Sometime in the 1870s, a Scotsman named Charles Traill bought several acres on the islet—which he renamed Ulva, after an island in the Hebrides—and set up a post office there because he was usually the first to see ships arriving with mail for Stewart Islanders. Botany being one of Traill's interests, he planted a large garden of native shrubs on his property, and also experimented with a variety of species from other parts of the world. He would collect seeds during his travels or even order them by mail, and then plant them to see how well they would do in this far-southern temperate climate.
When the two dozen ferry passengers disembarked in Post Office Cove, we divided into two groups for the Ulva Island tour. We five missionaries were directed to go with a young Samoan woman who introduced herself as Lynnette and proved to be a knowledgeable, fun guide. She got really excited when, almost as soon as we entered the bush, she was able to point out a rare tīeke (South Island saddleback), one of the endangered native bird species that was successfully reintroduced on Ulva Island about ten years ago. All but a few acres of Ulva Island is part of Rakiura National Park (which also encompasses most of Stewart Island), and the Department of Conservation has taken great pains to protect native plants and birds on Ulva by eradicating the non-native rats that used to infest the island.
As we followed Lynnette away from the shore and into the bush, we couldn't help but notice a spectacular display of southern rātā trees in full bloom. Like the pōhutukawa, the southern rātā produces brilliant red blossoms that resemble bottle brushes; both species are known as New Zealand Christmas trees because they bloom during December. Our first stop was in a grove Lynnette identified as Charles's Garden, the area Charles Traill had planted more than a century ago. (The Monterey pine seeds he imported from California did very well!) Continuing on, Lynnette pointed out native plants such as lancewood, which grows sharp, narrow leaves when young and then develops wider, softer leaves as it gets taller. It is thought that lancewood evolved with this unique growth pattern to discourage the now-extinct moa (a huge ostrich-like bird) from decimating immature plants. The "dinosaur plant" (tmesipteris, a type of fork fern) was one of the first plant species on earth to develop leaves; it hasn't changed much in 400 million years. Pūnui is a rare native plant that looks a lot like rhubarb. Lynnette told us that its hollow stems were used by ancient Māori like straws to suck the air from inside packages made from leaves, creating a vacuum that helped preserve fish and other food. Pūnui seeds are a favorite of rats, so the species has been virtually wiped out in other parts of New Zealand; it's still rare on Ulva Island but is coming back. Another notable species the guide brought to our attention was the muttonbird scrub, whose wide, leathery leaves were commonly used as postcards in the early twentieth century. We wondered whether Charles Traill started that trend to increase postage sales among the tourists who began visiting Ulva Island in the 1890s; even then it was recognized as an unspoiled, birdwatcher's paradise.
One of the first birds we encountered was a Stewart Island weka, a flightless brown bird that is about the same size as a small chicken. Weka are no longer common on the main islands due to climate change and predation, but in protected areas they continue to thrive. Like pigeons, weka are attracted to humans who provide food (whether intentionally or unwittingly) and can be obnoxious, following you around and poking into your bags in search of a treat. One stayed near Barry for several minutes after he opened and began to eat a snack-pack of crackers and cheese. The bird was obviously eager for a handout, but because we had been instructed not to feed any wildlife on the island, Barry had to leave it unsatisfied.
Another bird that tends to follow people around is the South Island robin (which looks nothing like an American robin). Apparently, human activity stirs up the insects that robins feed on, so Lynnette showed us how to entice one to come closer by scuffling the dirt with our shoes. We saw at least one tiny rifleman, which is New Zealand's smallest bird, weighing about as much as a large grape. The gray warbler, which we also saw, is about the same size as the rifleman but has a longer tail. Tomtits are about twice as large, but still pretty small. We wish we were as adept as Lynnette at spotting these little creatures flitting through the treetops, or at recognizing them by their calls.
Bigger birds were easier to see. The South Island kākā is a large greenish-brown parrot whose red-orange underwings make it easy to identify when it takes flight. It's also easy to hear, making a variety of caws and musical whistles. The bright-green kākāriki (parakeets) are somewhat smaller but are similarly flashy in flight. Both the yellow-crowned and red-crowned varieties inhabit Ulva Island, but we saw only the latter.
In addition to sighting rare birds and plants, we observed some interesting human wildlife. When Lynnette led us out of the bush and onto the Sydney Cove beach on the far side of the island, we saw a mother with two young children splashing near the shore. Both the water and air temperatures were in the mid-50s Fahrenheit—about 13° Celsius—but none of them seemed to think it was too cold for swimming.
Although Lynnette let our tour run a little longer than 90 minutes, the ferry waited for us; ours was the last tour of the day, and they didn't want to leave anyone stranded on the island. In contrast, many of the ferry passengers who had disembarked with us this morning on Stewart Island intended to stay for several days, bringing baggage and even coolers full of food. It would have been fun to stay there with them and explore more of Rakiura National Park, but that wasn't on our itinerary for this trip. The second ferry of the afternoon returned us to Bluff about 4:30 p.m. From there, we drove the remaining 2.5 kilometres (1.5 miles) of State Route 1 to its terminus, nearly at the southernmost tip of the South Island. Considering that the next landmass beyond Stewart Island is Antarctica, we had come very close to the end of the earth.
The national highway actually ends in the parking lot for a restaurant called Oyster Cove, where we had booked a table for dinner. We arrived nearly an hour before our reservation time because there really wasn't anywhere else to go in Bluff, but the hostess said we would be welcome to take our table early—and no one even pressured us to order drinks. The table was situated next to a huge window overlooking the area where the Foveaux Strait merges with the Tasman Sea, so we spent the next few hours in relaxed conversation, entranced by the waves breaking over the rocks beneath the window.
Looking over the menu when we finally decided it was time to eat, we noticed that there was special on green-lipped mussels. Eva had heard that green-lipped mussels were not to be missed, but although all of us were interested in trying them, none of us were willing to order only mussels for dinner. Someone suggested that we order some for the whole group to share as an appetizer, which turned out to be a perfect idea because the bowl we were served contained ten mussels: two for each of us. The flavor was good, but we agreed with Diane that the texture was too rubbery for our taste. What we liked best, however, was the creamy/buttery broth they came in, which inspired Nancy to order a "mini-loaf" of bread to sop it up. A bowl of garlic-roasted potato, kumara, and pumpkin topped with crunchy kale completed her main course. Michael had a exquisitely presented piece of salmon, with chioggia beets, baby carrots, and roasted herb potato served over parsnip purée, coral tulle and balsamic caviar. The presentation of Nancy's dessert (berry ambrosia with crunchy meringues) was nearly as impressive.
Although the food was beautiful (a word Kiwis commonly use to describe the taste of what they eat even more than how it looks), the awe-inspiring view of the ocean just beyond our table was the highlight of our time in Bluff. Oyster Cove's windows were situated just at the right angle to allow us to enjoy the late afternoon sun without any glare. Had we been at a higher latitude, we might have enjoyed the sunset, but because we were so far south, the sun would not go down for a few more hours.
Before heading back to Invercargill, we drove out to the Stirling Point Pilot Station, established in 1856 to provide assistance to ships navigating the Foveaux Strait. Pilots would use flags as well as lights to guide vessels safely in and out of Bluff Harbour. The station has not been manned since 1984, when improvements in radio communication had made flag signals unnecessary, but the lantern is still in use, activated by an automated system. Across the narrow pass from Foveaux Strait into the harbor we could see Tiwai Point, where early Māori found outcroppings of argillite, a fine-grained stone that was perfect for making adzes. In the 1860s, prospectors discovered scattered deposits of gold on the peninsula, but since 1970 the most important commercial activity at Tiwai Point has been aluminum smelting. Bluff Harbour once hosted whaling and sealing vessels; today it's an export point for seafood, meat, and dairy products as well as aluminum.
When we got back to Invercargill, we decided to stop at Countdown to buy some oatmeal, milk, juice, and yogurt for the next morning's breakfast so we wouldn't have to eat at Subway again. It was only 8:00 p.m. when we returned to the Quest Serviced Apartments, so we all squeezed around the table in one of our "apartments" and played a game of Quiddler. The game combines elements of Scrabble and gin rummy; Nancy likes it because it involves creating words instead of calculating numbers (never her strongest suit).