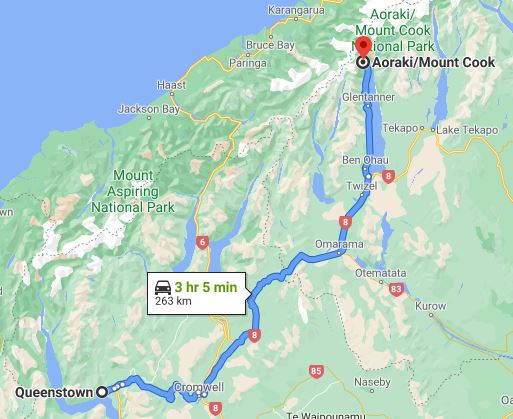 Our chance for a helicopter flight over Aoraki/Mount Cook on the last day of 2020 was dependent on getting to the airfield before noon. Weeks earlier, Michael had booked a 2:30 p.m. heli-tour, but on Wednesday 30 December, the day before the scheduled flight, he received a phone call from the flight coordinator saying that they were cancelling Thursday's afternoon flights because the weather forecast did not look good.
"Are you still flying tomorrow morning?" Michael asked. "And if so, do you have space for five on any earlier flights?"
"We do have space on the 1:00 flight," the coordinator replied, "but we won't know whether we can fly until we see what the forecast looks like in the morning. We'll be able to give you a better idea if you call us about 8:30 tomorrow."
Our group had already considered the possibility of bad weather in the Southern Alps, and as we had driven into Queenstown on Wednesday, we had tentatively decided to postpone the trip into Aoraki/Mount Cook National Park until later on Thursday if the weather precluded the helicopter flight. So as we finished our dinner on Wednesday, we debated about what to do. If we couldn't take the helicopter ride, we might as well spend the morning in Queenstown, where there was more to do. We could stroll along the lake, go shopping, have a Fergburger for lunch, and then make the 3.5-hour drive to Aoraki/Mount Cook. Thinking it would be nice to have more time to explore Queenstown, Nancy had been leaning toward that option—until an afternoon spent exploring Queenstown with the other tourists on the previous day convinced her that she'd had enough. The rest of the group felt the same way. We really wanted to see Aoraki/Mount Cook from the air if we possibly could, so we decided to be ready to go at 8:30 a.m. in case the flight was even a remote possibility.
Although breakfast service at Chalet Queenstown normally does not begin before 8:00, the young Bangladeshi man who checked us in offered to prepare an early meal for us so we could get on our way by 8:00 a.m. We were grateful that he was willing to adapt to our schedule, and even more grateful for the excellent food he cooked to order. Nancy pronounced her vegetable-stuffed omelet "perfect"; Michael was equally happy with his Eggs Benedict. We also had fresh orange-mango juice and some delicious citrus marmalade on perfectly toasted bread.
When we picked up Barry and Eva at the Hilton about 8:15, they claimed that they had just spent the night in the nicest hotel room they had ever stayed in. Considering that Barry and Eva have stayed in a lot of nice hotels because Barry's business required frequent international travel, rating the Queenstown Hilton so highly was saying a lot. And they, too, had enjoyed a superb breakfast.
There were cheers all around when a phone call to InFlite Heli-Tours confirmed that the skies over Aoraki/Mount Cook should be clear enough for flying until mid-afternoon. We eagerly got on the road and enjoyed magnificent views as we drew closer and closer to the snow-capped Southern Alps.
We made good time and were able to relax a little when we could see that we would reach the airport well before noon. However, we had to make an unscheduled stop as we approached Aoraki/Mount Cook Village. You may recall that we had begun listening to A Man Called Ove by Fredrik Backman on the drive from Dunedin to Invercargill a few days earlier. Although it took us several chapters to warm up to the comically suicidal Ove, the more we listened, the more our affection for him grew, and we were now so absorbed by the story that we almost forgot to pay attention to the scenery. Somewhere along the side of Lake Pukaki, just as Aoraki/Mount Cook came into view, the tale reached its climax.
"Stop! Pull over!" someone called. "I want to look out the window, but I'm also trying to focus on the story, and I can't do both at the same time!"
"Yes, yes, pull over!" we chorused, but Barry had already slowed the van and was coming to a stop at the side of the highway. He, too, was so caught up in the tale that he couldn't pay attention to the road until the narrative had reached its resolution.
When the audiobook ended, silence prevailed for a few moments as the five of us began processing what we had just experienced.
Michael was the first to speak. "That was a really good guy book," he said.
Eva said, "It's all about the power of love," and we nodded in agreement.
Forcing ourselves to return to reality as the van proceeded up the highway, we now turned our full attention to the beauty of the Southern Alps and New Zealand's tallest mountain, Aoraki/Mount Cook. Aoraki is the peak's Māori name, which means "cloud piercer." According to legend, Aoraki was the tallest of the sons of Ranginui (Father Sky) and Papatuanuku (Mother Earth). Aoraki and some of his brothers were traveling from their home in the sky to visit their mother on earth, when their waka (canoe) ran aground on an ocean reef. While standing topside to survey the situation, the young men were frozen by another brother, Paraweranui, the fierce South Wind, and turned into stone. They became the peaks of the Southern Alps.
Sadly, the story of the tallest mountain's English name is more prosaic: it honors Captain James Cook, the first explorer to chart New Zealand's shores, although he probably never saw the peak himself.
Before long we were at the Aoraki/Mount Cook Airport, where we checked in with InFlite Heli-Tours. The clerk told us that the helicopter was still out with another group, so we wouldn't have to be ready to board for about 45 minutes.
"Is there a grocery store or someplace close by where we could get a quick bite to eat?" Michael asked.
"No stores; just the lodge," said the clerk. "But they have a cafeteria where you could get a pie or a sandwich or something like that."
So we decided to go to the Hermitage Lodge for a little lunch. At least, that's what Nancy thought we were doing when we parked and went inside. She went right upstairs to the cafeteria and had just about decided on a tomato-goat-cheese salad when she realized that none of her companions had followed her up the stairs. She found them in the hotel lobby, checking in, but by the time they had completed that process, it was too late to get any food except something that could be taken along and eaten out of hand. Four of the five bought a muffin or a bag of chips (or both), but Nancy had made up her mind to have a salad rather than more carbohydrates and thus chose to eat nothing until after the heli-tour.
By 1:15, we were in flight. The helicopter followed the Tasman River upstream to icy Tasman Lake, into which the runoff from both the Murchison and Tasman Glaciers trickles. At the north end of the valley, we landed on the Tasman Glacier, under peaks known as the Minarets. Because ours was his last flight of the day, Greg, our friendly pilot/guide, was content to let us tramp around in the snow as long as we wanted, while he told us what it was like to grow up in tiny Aoraki/Mount Cook Village. We learned that he had attended boarding school in Timaru (a town of about 40,000 on the east coast, 200 kilometres away), married a classmate, and then returned to the mountains to open a new accommodation for visitors as an alternative to The Hermitage, the park's main lodge. (Flying helicopter tours is a side-hustle.) The couple's two teenage children now attend the same boarding school as their parents and seem likely to follow a similar career path. The border closure has dealt a big blow to the family's income, but for now they're managing to hang on.
Glacier Highlights Photo Gallery
Back in the helicopter, we crossed over the ridge to our west and started down the Grand Plateau toward Aoraki/Mount Cook.
"Look over there!" Greg suddenly exclaimed, pointing toward the side of a nearby peak. "See that dark patch? There's been a rock slide since we flew past here earlier—a big one! Let's go take a closer look."
And with that, he turned the helicopter toward the mountain. "I want to get some photos," he explained, obviously excited. "This will be in the newspaper!"
Greg was relieved to see that the slide had missed a climbers' hut, which he pointed out below. After he had taken several photos, he directed the helicopter toward a saddle at the south end of the plateau. Swooping over the aptly named Cinerama Col was a lot like some heart-stopping simulated flights we have taken in an IMAX theatre, except this one was for real!
After following the glacier south, we ended up back at the airport more than an hour after our "45-minute" heli-tour had begun. We didn't mind spending the extra time in the air at all.
A few days later, we googled "Mount Cook landslide December 31" and found that the slide, which occurred on Mount Silberhorn, had indeed made the New Zealand Herald (with photos by InFlite pilots); but that news was overshadowed by reports of another slide that occurred the same day on Mount D'Archiac, about fifty kilometres to the northeast. That one had trapped two climbers, one of whom was badly injured. Both were rescued on New Year's Day.
Back at The Hermitage after our airborne adventure, we settled into our rooms and then went to the café, where Nancy finally was able to get that long-awaited tomato, goat cheese, and quinoa salad, plus a raspberry "slice" (i.e. fruit bar). Michael's lunch consisted of a croissant (a good one!) with butter and jam, and a cream-filled, fruit-topped donut that looked like a catamaran made out of churros. (Nancy is getting concerned about the heart-stopping nature of some of Michael's food choices.) We wish we had taken a photo of the young man who was busing tables, because he looked very much like a hobbit.
While Michael took a nap after our late lunch, Nancy perused the gift shop and found a good wide-brimmed hat to replace the one Michael had bought for himself at K-Mart two days after we arrived in New Zealand. He had decided it was too small and gave it to Nancy after he found another one that fit him better, but eventually Nancy decided that even though the hat fit her, it was too flimsy to provide any protection from the sun because the brim blew back in the slightest wind. The new hat is much sturdier and Nancy was especially happy that it didn't cost any more at the gift shop than it would have if she'd ordered it online.
Michael was awake and enjoying the splendid view of Aoraki/Mount Cook from our balcony when Nancy returned to the room. With about 90 minutes before our group was supposed to meet for dinner, we decided to go out for a tramp on the nearby Governor's Bush Track. Click here to virtually hike this track yourself; you'll be able to see much of what we did, without getting as hot and sweaty as we did. (The guide pamphlet had described the Governor's Bush Track as "easy," a designation with which we disagreed. Perhaps park rangers in the Southern Alps use a different degree-of-difficulty scale than we do.) Sadly, the virtual tramp doesn't include photos of the informative labels identifying many of the plants along the way, nor does it allow you to hear the melodious birdsong we enjoyed.
About fifteen minutes into our tramp we realized that we had neglected to bring a water bottle—a big mistake. Fortunately, the far side of the loop track provided access to a clear, swift stream where we could take a drink. Thirst overcame any worries we may have had about contaminants in the water, but because birds and insects are about the only wildlife in these mountains, our worries were few. (And we survived without any ill effects.)
Back at the lodge, we changed into fresh clothes before going downstairs to the Alpine Restaurant for dinner. A few of the other guests we passed in the hall were gussied up in cocktail dresses and heels, but most diners were dressed as we were: not quite in tramping gear, but in comfortable traveling clothes. It was obvious that all of us had chosen to spend New Year's Eve in Aoraki/Mount Cook National Park primarily to enjoy the stunning scenery and not for a night of unrestrained revelry.
The New Year's Eve buffet at The Hermitage was markedly better than the Christmas buffet at the Rydges Latimer Hotel in Christchurch had been. The Alpine Restaurant's offerings included a wide selection of very nice antipasto and salads: creamy egg-potato salad, Greek salad, Caesar salad, coleslaw with a vinegar-based dressing, and Moroccan pearl couscous with oranges, dates, and sundried tomatoes. Hot sides included Asian-style chicken dumplings, ratatouille, baked gnocchi with spinach in a creamy pesto sauce, cauliflower gratin, roasted potatoes, steamed green beans, and honey-glazed pumpkin and kumara.
The meats, in particular, were "beautiful" (as Kiwis like to say): tender locally-grown lamb with mint-garlic jelly, venison ribs with mushroom-truffle sauce, roasted NZ grass-fed beef (done just right) with red wine jus, pork loin with applesauce, sizzling duck, poached salmon, and garlic prawns. The only substandard item we tried was the unpleasantly bitter whipped avocado topping on the cold salmon mousse, but soon after Michael mentioned the lapse to the chef, that tray of salmon mousse disappeared.
And no, we were not done yet.
In addition to a selection of Whitestone cheeses served with Barker's chutney and fresh fruit, there was a seemingly endless array of desserts: sample-size servings of kiwi pavlova, coconut-passionfruit panna cotta, mixed berry cheesecake, and various mousses (chocolate, mocha, berry, and more), plus salted caramel and pecan tartlets, chocolate brownies, blonde brownies, and Hermitage cookies (similar to Neiman Marcus cookies). If none of those options looked appealing, you could fix yourself an ice cream sundae at a bar with at least as many sauces and sprinkles as a Cold Stone Creamery.
The sundae bar was especially popular with a young family sitting next to us. The parents were celebrating their tenth wedding anniversary in company with their cute, well-behaved children (ages 3, 5, 7 and 9), who seemed very happy to have been included rather than left at home with a babysitter. There were a few other families with teenagers in the dining room, and a lot of Asians speaking languages we couldn't understand. We also overheard conversations in some languages we couldn't even identify.
When we had finally eaten our fill (and then some), our group moved to an empty table in the adjacent lounge—the only place available where we could play games, because none of our rooms had tables. When the woman blandly singing American standards with a Kiwi accent packed up her keyboard and left at 9:00, we hardly noticed, and were happy that no loud rock band came to replace her. We also were happy that the wait staff never pressured us to buy any drinks, and made sure that the water dispenser near our table never ran dry. Barry found it amusing that five senior Latter-day Saint missionaries were spending New Year's Eve holed up in a bar, playing cards, but if we had to spend the evening in a bar, this was a good one to have chosen. Other patrons may have been sipping champagne, but no one was raucous or even noticeably tipsy. We played Five Crowns and Quiddler until about 10:00 and then decided that we'd rather go to bed than stay up to ring in the New Year, and because we didn't hear any loud noises after we retired to our room, we suspect that most of the other guests made a similar decision.
And thus 2020 silently came to an end. It was quite a year, wasn't it?