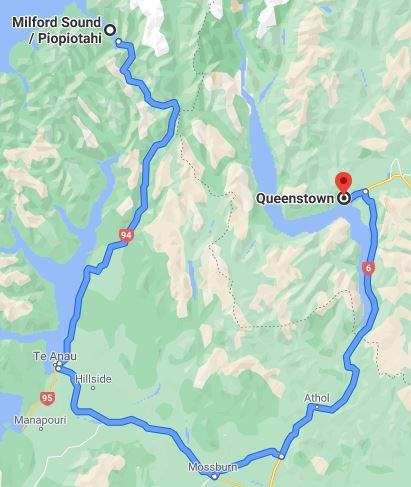 Milford Sound Lodge offered guests a continental breakfast as long as it was ordered the night before. Because we needed to get an early start for our drive to Queenstown on Wednesday 30 December, the lodge staff arranged to have our yogurt-and-fruit parfaits and choice of muffin or croissant ready to pick up as we left the restaurant after dinner at the lodge restaurant on Tuesday night. We have already mentioned that no one produces better dairy products than New Zealand, and that the fresh fruit here also is exceptional. Baked goods are generally good, but for some reason, Kiwis have trouble making a good croissant. Maybe it's that New Zealanders traditionally breakfast the way the British do, with eggs and toast, rashers of bacon, baked beans, and broiled tomatoes (pronounced to-MAH-toes, of course), or maybe porridge. They don't start the day as the French do, with light, airy, crisp-on-the-outside, soft-on-the-inside croissants to dip in their steaming café-au-lait or chocolat. So although our breakfast parfaits did not disappoint, the croissants … well, we should have ordered the muffins.
At 8 a.m. the weather was gray and a little drizzly, though not foggy enough to completely obstruct our view of the mountains around the lodge. For the first 120 kilometers (75 miles) of our journey to Queenstown, we had to retrace the route we drove yesterday simply because there is no other paved road out of Milford Sound. No one complained, however, because even with the mist, the scenery was as gorgeous coming out as it had been going in.
As we passed a small pull-out at the side of the road, we recognized the shelter where the bus had deposited us at the beginning of our 2014 trek on the Routeburn Track. We are very glad we made that trip when we did, because we are not sure that our current bodies could endure three days of backpacking over such rugged terrain.
When we reached Te Anau, we turned east, away from the forests of the fiordlands, and back onto the Southern Scenic Route, which follows the Mararoa and Oreti River valleys around the Eyre Mountains. Herds of cattle, sheep, and domesticated deer graze in wide expanses of grass, surrounded by scrubby broom and gorse bushes. At the Five Rivers Café (the equivalent of stagecoach stop, and nothing more), the Scenic Route turns north toward Lake Wakatipu and The Remarkables, the mountain range that forms a stunning backdrop for Queenstown.
In many ways, Queenstown is analogous to Aspen, Colorado: a popular mountain resort that began as a mining town. It was gold that made Queenstown boom in the 1860s; in Aspen, it was silver. Queenstown's gold rush slowed considerably once the prospectors realized that making a fortune in gold mining wasn't as easy as it sounded, and the town's population quickly dwindled; Aspen experienced a similar decline when the silver market collapsed in the 1890s. But all was not lost. Prospectors from Scandinavia had introduced residents of both towns to skiing, demonstrating that it was not only an efficient mode of transportation over snow-clad slopes, but also that it was fun. By the 1930s, a number of ski clubs had been established in New Zealand, while the 1932 Winter Olympics held in Lake Placid, New York, began driving interest in sport skiing in the U.S. Aspen's first commercial ski resort opened in 1936, and a primitive lift was installed the next year. In Queenstown, a farm at Coronet Peak had been used freely by ski enthusiasts for years, but in 1947 the owner installed a rope-tow designed by a local inventor, began charging for its use, and New Zealand's first commercial ski resort was born. Since the 1980s, both towns have experienced exponential growth as tourists flocked to their recreation areas, drawn summer and winter alike by world-class facilities and out-of-this-world scenery. By 2020, Queenstown's population of permanent residents had reached about 20,000, nearly three times that of Aspen. About three million tourists visit Queenstown each year; Aspen gets about half that number—but Aspen probably had a better year in 2020 because it didn't have to contend with a border closed to international visitors.
We were ready for lunch when we drove into Queenstown a little after noon. Although we had been told that we must get a Fergburger at the eponymous restaurant in the middle of town, we decided that we had time neither to battle downtown traffic nor wait in line for an hour to be served, so we headed instead for Taco Medic, located in a shopping mall on the northeast side of town (which hadn't existed when we visited Queenstown in 2014). We can thank TripAdvisor for recommending this excellent establishment. Our choices included freshly made tortillas stuffed with grilled sole, red cabbage, citrus tartare, and pickled onions; fried chicken, green cabbage, mango chunks, tomato salsa, chipotle mayonnaise, and coriander; and a vegan "cutlet" made from walnuts and pumpkin seeds, garnished with green cabbage, avocado, and tomato salsa. Yum, yum, yum! We appreciated the hand-washing station installed at the back of the restaurant: a tasteful copper trough lined with river rock, with multiple taps to allow several people to clean salsa drippings off their hands at once. While we were eating, the owner stopped by our table to make sure we were satisfied. (We were.) He also explained that after enjoying gourmet tacos during a visit to Mexico, he realized that New Zealand offered nothing like them, so he decided to open his own taquería in Queenstown to fill the void.
Although drizzly rain had continued off and on throughout the morning, by the time we finished lunch, the rain had stopped and we felt like we were cleared for our afternoon outdoor adventure: horse trekking at Moonlight Stables, another ten minutes northeast of central Queenstown. Eva and Barry had decided that horseback riding was not for them, so they dropped the rest of us off at the stables and continued up the highway to Arrowtown, a little village with lots of shops and cafés now occupying its charming gold-rush era buildings. Diane, on the other hand, was excited for the opportunity to get back in the saddle, having grown up around horses during her youth in Oklahoma and Texas. Several people were already outfitted with chaps and helmets when we arrived, but they waited patiently while Janice, the owner, and Zoe, our guide, helped us find boots, chaps, and helmets to fit and get them properly adjusted. Then they assigned each of us to a horse and helped us mount up. Diane got Buster (who liked to trot), Michael was led to Mr. White, and Nancy (who can count the times she's been on horseback on one hand) was given Steve-O, with assurance that he was calm and cooperative.
Zoe led our group of eight up a dirt drive riddled with rabbit holes (and a few startled rabbits), past a paddock of domestic deer, and up a short stretch of paved road to a track that led into the hills. Sheep grazed placidly between stands of trees and hawks circled overhead. Diane and some of the other more experienced riders took advantage of Zoe's encouragement to give their horses a kick and let them canter across an open field, but Michael and Nancy were content to maintain a slow, steady walk.
Unfortunately, Nancy and Steve-O had gotten off to a shaky start when the horse stepped in a rabbit hole and caused Nancy to tip just enough that she never fully regained her seat. Our English-style saddles were smaller and not as comfortable as the western saddles we'd used before, and they offered no horn for Nancy to grab to help her readjust her weight. About an hour into our 90-minute trek, her right leg began to ache, but she sucked it up and didn't complain until we got back to the stable. By then, the blood circulation in her leg had become so constricted that she not only needed help to dismount but also needed help just to stand up when her feet touched the ground—and then when the blood began to flow back into her leg, she nearly fainted.
Zoe offered us a cup of something she described as a "very refreshing lime drink," which we downed in its entirety even though it was unnaturally green and tasted like the stuff they give you for a glucose tolerance test. (It's amazing what one can tolerate when your energy has been completely sapped.) Having been revived with liquefied sugar and restored circulation, Nancy was fine, but all of us rightly suspected that we would have to endure some tenderness in the crotch for a while. Michael experienced the most lingering discomfort, but agreed that even with an English saddle, riding a horse isn't nearly as uncomfortable as riding a camel. (Read about our 2015 experience on camelback in Petra here).
Barry and Eva came back to the stables to pick us up about 2:45 p.m. Driving into central Queenstown, it was hard to tell that New Zealand's border closure has resulted in fewer visitors, because there was no lack of tourists in the streets there. Indeed, it seemed as though everyone in the country had chosen to spend their Christmas holidays in this mountain resort, and we heard just as many languages being spoken among the crowds as we would have expected in a normal year—evidence that New Zealand has become a magnet for refugees and restless souls from all over the Southern Hemisphere.
Among Queenstown's tourist attractions is a gondola that takes you to the top of Bob's Peak, offering a panoramic view of Lake Wakatipu, the Eyre Range, The Remarkables, and the city below. And not only is there a view, but the gondola provides access to bungy jumping, paragliding, a downhill mountain bike course, and a dual luge course.
We parked near the gondola station and took a ride to the top. Given the option to buy a package deal that included a two-trip pass for the luge course, Michael and Barry decided to go for the package. Nancy, unable to see the course from the ticket office and still wary of the condition of her leg, decided not to try the luge, but regretted her decision after she saw that the run wasn't as steep as she expected—and how much fun the men were having as they sped by. She and the other women passed the time enjoying the view and browsing in the souvenir shop.
When we had had enough of the brisk wind at the top of Bob's Peak, we took the gondola down but left the van parked near the station and walked into the commercial center of town, where we wandered in and out of shops and past cafes with the other tourists.
Michael was energized by all the people thronging the streets, but Nancy finds that places like this become depressing after about 30 minutes, once she has determined that the only things she might be interested in buying are either too expensive or too big to take home on the plane—or made of wool, which makes her itch. She had felt the same way when we visited the Greek isles in 2017: the scenery is stunning, but enjoying it comes at a cost. So many beautiful places have been marred by a culture that values money over Mother Nature and seems to take more pleasure in alcohol than in the natural ambiance. Occasionally she has pangs of guilt about being one of those tourists to whom the locals must cater, building access roads, hotels, restaurants, shops, and secondary "attractions" into the landscape for her convenience. But then she also has moments of feeling altruistic because the money she spends in places like this helps provide a livelihood for the locals (even though most of the service people and vendors we saw in the South Island seem to have come from somewhere else: to wit, the Samoan guide on Ulva Island, the Scandinavian guide at Milford Sound's underwater observatory, the Argentine server at the Pio Pio Café, and the Bangladeshi proprietor at Chalet Queenstown, where we were staying the night). The question of whether more amenities for tourists constitutes "progress" remains a conundrum.
We tired of window shopping even before it was time to meet at Blue Kanu, where we had a dinner reservation. The Asian-Polynesian fusion menu offered many interesting choices. We shared a salad with cabbage, crisp green beans, mung bean sprouts, and peanuts, mixed with citrus dressing. Nancy chose tuna filets with edamame, ginger ponzu, and sweet miso for her main plate. The generous serving was more than she could handle, so she gladly shared slices of tender tuna around the table. On the recommendation of the server, Michael ordered the Kung Pao duck nachos with avocado, goat cheese, mango jam, and peanut sauce. Yes, it was as good as it sounds.
We didn't even look at the dessert menu because we knew we wanted to go to Patagonia, the superb ice cream and candy shop we had visited in 2014. (It's in the same location, but has doubled in size since then.) Nancy ordered mascarpone ice cream with "fruits of the forest" (blackberries, blueberries, red raspberries, and strawberries) in a cup and was glad she had asked for only one scoop because it was huge. Michael ordered a double cone before he saw the size of Nancy's gigantic single: salted caramel crunch and dark chocolate with macadamias, all dipped in more chocolate. Estimating that, by volume, he had been handed a whole pint of ice cream, he decided that he'd better ask for a take-away tub to put it in before the second scoop toppled to the ground. Sadly, he managed to consume the whole thing within 15 minutes.
After we had wiped the last traces of ice cream from our lips, we took a stroll along the shore of Lake Wakatipu, skirting the crowd that had gathered to watch a flame juggler, but stopping for a few minutes to listen to an excellent young saxophonist who merited a contribution to his collection box. Meanwhile, Barry hiked back up the hill to fetch the van from the carpark and then met us back at the Marine Parade when we were ready to head to our lodgings.
Chalet Queenstown was fully booked by the time Barry and Eva had decided to join our South Island expedition, so we dropped them off at the Hilton on the other side of the lake's Frankton Arm, and then returned to the center of town, where the quaint Chalet is located. The manager was extremely friendly and up-sold us for a hot breakfast in the morning. The hotel is small— only five rooms, and each of those is small, too; our bathroom was no bigger than a standard bedroom closet. Although space-challenged, the place was very clean, and it gave us an unmatched, dramatic view as the sun set behind the mountains and reflected off the lake.