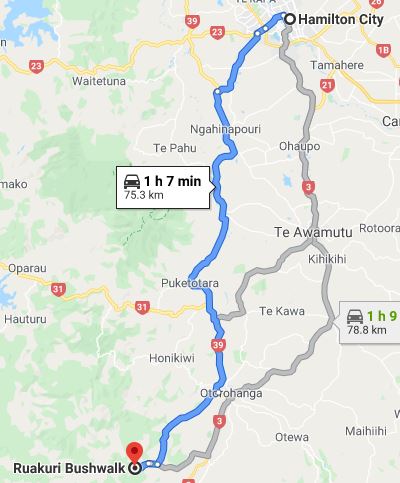 This morning's housework involved dealing with an infestation of insects in our windowsill potted herb garden. In addition to spider mites in the basil, Nancy found two brilliant green caterpillars wrapped in fuzz that had attached themselves to the sheer curtains next to the plants, which explains what had been gnawing holes in the sage leaves. But soon it became clear that we would finish our Monday chores by lunchtime, and because neither the weather forecast nor actual conditions indicated a rainy afternoon, we rang Barry and Eva to ask if they would like to join us for a hike near Waitomo, one of the North Island's most popular tourist destinations. All of us had previously visited the must-see Waitomo Glowworm Caves, but we hadn't explored the other caves and bush walks in the 280-acre Ruakuri Caves and Scenic Bush Reserve.
Long ago, Ruakuri, the reserve's largest cave, served as a wayside shelter for travelers and later as a burial ground. Its name is derived from the Māori word for "dog's den." Legend has it that while Chief Tāne Tinorau of Kawhia was traveling through the area with a war party several centuries ago, he sent a young warrior down a gorge to hunt for birds. The man was attacked by a pack of wild dogs at the entrance to a cave, but escaped by offering the dogs the birds he had caught. Later, he led the war party back to the cave, where they killed and ate the dogs. The skins were used to make a cloak for the chief.
That story may only be legendary, but historians can document that in December 1887, a descendant of the chief, named Tāne Tinorau Opataia, with a fellow explorer named Fred Mace, took a flax raft and torches into the Waitomo cave system, and soon thereafter began leading tours to show off the glowworms and other wonders they discovered inside. Another cave was discovered in 1910 by a hunter named Ruruku Aranui, whose dogs chased a wild pig into it. Aranui Cave lacks water and therefore contains no glowworms, but it features some splendid stalagmites and stalactites.
The New Zealand government took over tour operations in the Waitomo cave system from Tāne Tinorau Opataia in 1904, but closed the business in 1988 due to legal disputes with Opataia's heirs. In 2005, the caves were reopened to visitors after a new entrance was constructed so that the Māori burial ground at the old entrance could be kept sacred.
Nancy, Michael, and his sister DeEtte had a memorable blackwater rafting adventure at the Waitomo Glowworms Cave in 2014, which you can read about here.
Today, however, we drove past the sprawling but largely deserted Waitomo Tourist Centre and headed for the Ruakuri Bushwalk, a looped track that follows the Waitomo Stream through native bush and limestone formations. The highlight of the trail is the Ruakuri Natural Tunnel, a high-ceilinged cave formed by the flowing stream.
Before heading home, we drove up the hill to the historic Waitomo Caves Hotel. Tāne Tinorau Opataia and his wife had built a house on the site in 1901 to accommodate visitors, which the Tourist and Health Department purchased a few years later when the tour business was nationalized. The hotel was expanded a couple of times over the next three decades, with each addition designed in a different architectural style: Victorian, Art Deco, and California Spanish Mission. Today the whole place was eerily shuttered, a stark reminder of the impact of COVID-19 and closed borders on New Zealand's tourism industry. Even before its most recent closure, the hotel had developed a reputation as one of the county's most haunted venues. Guests and staff members have reported seeing ghosts stalking the halls, glowing orbs bouncing in the driveway, and blood dripping in a bathtub. Others claim to have heard a maid's trolley rattling down a long, deserted corridor, or felt sudden, unexplained chills while seated in the dining room. We may not have seen any apparitions nor heard any spooky noises at the hotel this afternoon, but we would not have wanted to stick around after dark. We decided that we'd rather get our shivers by stopping for ice cream at Big Azz on the way home.