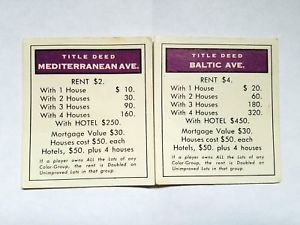 The names Mediterranean and Baltic have been familiar to both Nancy and Michael since childhood–although we can't say at what point we learned that they were the names not only of the cheapest properties on the Monopoly board but also of small seas flanking Europe on the south and north. In the past, we eschewed buying the purple deeds for those low-rent properties so we could save our brightly colored cash for better investments, but these days we are less interested in purchasing more real estate than we are in seeing the world, so the names Mediterranean and Baltic have become much more attractive.
Before we got married, both of us lived in countries on the Mediterranean Sea; since becoming a couple, we've returned several times to southern Europe as well as to parts of the Middle East that border the shores of "the sea in the middle of the earth." Occasionally, we've had the chance to stroll along some of its beaches and even splash in its waves–but neither of us has ever been to the Baltic. We came closest when we went to Denmark and Germany in October 2017, but never traveled far enough east along the seacoast to reach the Baltic.
You may recall that the purpose of our trip to Denmark was to visit rural Jutland, where many of Nancy's ancestors had lived before her great-great grandparents emigrated to America. We had only five days in the country so we chose not to go to Copenhagen at all; therefore we did not see the Little Mermaid statue, nor visit Tivoli Gardens, nor take in the view from the top of the Rundetaarn. "Someday," we said, "we'll go back to Denmark so we can see Copenhagen and do the regular tourist stuff."
In May of that year we had taken our first cruise together, around the Aegean Sea on a sailing vessel called the Wind Star. We and our companions enjoyed that trip so much that we hoped we'd have another opportunity to take a Windstar cruise–someday.
Shortly after we returned from Denmark and Berlin, our friends Mark and Lynn told us that they had signed up for an African safari in August 2018 and asked if we wanted to go along. After thinking it over for several weeks, we decided to accept that invitation—so there would be no cruise in 2018. But having taken one voyage on the Wind Star, we (and all the friends who had accompanied us) had now become regular recipients of glossy brochures, and we enjoyed looking for possible future destinations.
To us, the most irresistible of Windstar Cruises' offerings were their Baltic excursions. When we mentioned this to our friends Keith and Nan–who had been around the Aegean on the Wind Star with us in 2017–they confessed that they had heard the same siren song. "Let's do a Baltic cruise together the summer of 2019," we decided; so as soon as Windstar announced their 2019 schedule, Michael and Nan began comparing calendars and making plans. Keith and Nan knew that they would have some graduations in May and June to consider because three of their five children were nearing completion of advanced degrees, but fortunately Windstar's schedule included a few Baltic excursions that would work for all of us.
Our 2017 "Travels of Paul" Aegean cruise on the Wind Star had been arranged through Discovery Expeditions and Adventures, the tour company run by our friends Jim and Carol Gee, so before booking a cruise directly with Windstar, Michael decided to contact Carol and ask whether she might be able to get us discounted tickets.
"You want to take a Baltic cruise?" said Carol. "Jim and I have talked about doing that, too, because that's an area of the world we've never visited. Maybe we'll come with you! Let me contact Windstar and see what I can arrange."
A few weeks later, Carol called back to say that she had successfully reserved eleven cabins aboard the Star Breeze with a group discount. The cruise would leave Stockholm on Saturday 8 June, with stops in Helsinki, Saint Petersburg, and Tallinn, and end in Copenhagen on Saturday 15 June. "Jim and I are going to go, so we'll make it an official Discovery XA tour and take care of booking shore excursions for our group along the way, if that's OK with you," Carol said. She didn't have to twist our arms.
Now that our Baltic cruise was on track to become a reality, Michael, Nancy, Keith, and Nan began talking about adding some extra excursions to either end of the voyage. Michael and Nancy were interested in seeing more of Denmark, and all four of us wanted to go to Prague (because have you ever heard of anyone who went to Prague and didn't come back raving about how wonderful it was?). When we told Carol that we'd like to add a couple of days in Prague either before or after the cruise, she said, "That's another place Jim and I have not been to yet, so let me see what I can work out. We probably could make it an optional add-on for anyone else who may be interested."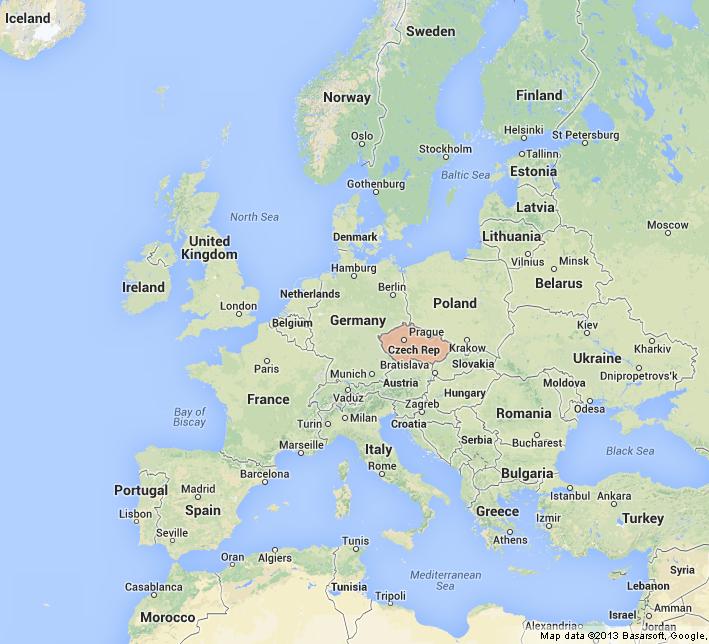 Meanwhile, mutual friends Budge and Linda had gotten wind that we, Keith, and Nan were planning to cruise the Baltic and decided that they wanted to join us, so we would fill three of the ten other cabins Carol had booked. Who else did we know who might want to come along? Soon we had collected three more "definite" couples from among our Latter-day Saint friends from Cincinnati: Mark & Lynn, Eric & Pam, and Richard & Judith (all of whom had been on previous Discovery XA tours with us), and three "maybes": N.J. & MaryAnne, Tony & Katie, and Mike & Allison (all of whom would be new to Discovery XA). Within the next several months, all the "maybe" couples decided to confirm, as did Steve & Jan, who have never lived in Cincinnati but have become friends after traveling with several of us on both the 2017 Aegean cruise and the 2018 Kenya safari. So our 2019 Baltic cruise roster was complete—until Richard & Judith received word that a close relative had scheduled a wedding for the same weekend the cruise was set to begin, and had to drop out.
Who could we get to fill the vacancy? We were reluctant to tell Carol to just open it up on the Discovery XA website, because we realized that whatever random couple took that slot might feel like outsiders among a group of people who already knew each other very well. We invited several other empty-nester couples from our church congregation, but all had to decline for one reason or another. Then one day last fall, while Michael and Nancy were in Salt Lake City to see our latest grandchild, we had lunch with Ed & Lisa, who had once lived in our Cincinnati congregation but had moved away several years ago. After they had inquired about our recent trip to Africa and we had given them a review of the highlights, they asked, "So where are you going next?"
"The Baltic," we replied, "next June." Suddenly the lightbulb above Nancy's head switched on.
"Want to come with us?" she said. "Our group has one vacant room, and you two would be the perfect people to fill it!"
Lisa and Ed looked at each other for a moment and then said, almost simultaneously, "Send us the information." Within the next few weeks, they let us know that they had officially signed on.
After Christmas, Michael threw himself into Trip Planning Mode and has spent much of the last several months researching places to go, ways to get there, things to do, and (most important) places to eat that may not be included in Carol's group-tour itineraries. Communicating his findings to other members of the "Baltic 2019" What's App group that he established, he has become our de facto assistant tour director. And now, at last, we are ready to go!