Attempting to go back to sleep is futile when sunlight has been streaming through the gaps around the blackout curtains for a couple of hours already, so at 5:45 a.m. we gave up and got up. Packing for the flight home required some reorganization and coordination ("Do you have room for more dirty clothes?" "Where did the electronics bag end up?") in addition to the cooperation required to move around the room.
At breakfast, Nancy finally settled for cereal (muesli with a high percentage of sunflower and pumpkin seeds) instead of eggs or sausage to go along with her grilled asparagus and broccoli.
A little before 10:00 a.m. the six people left in our group (Pam, Eric, Lynn, Mark, Nancy, and Michael) checked out and then met in the lobby to wait for the van we had engaged to take us to the airport. The drive didn't take long—about 20 minutes—and neither did anything once we got there. We were impressed with how efficiently the airport staff operated to speed travelers along their way. Security officers checked passports and asked the obligatory questions ("Did you pack your luggage yourself? Did anyone ask you to carry something for them onto the flight?") as we stood in line to check in so we wouldn't have to queue up at another checkpoint; clear signage in Danish and English showed us where to go; automated gates directed us to "Stop" or "Walk" to avoid confusion as we approached the security check for carry-on bags. (Unfortunately, we were not allowed to take any photos within these areas.) Thus we had plenty of time to relax before boarding.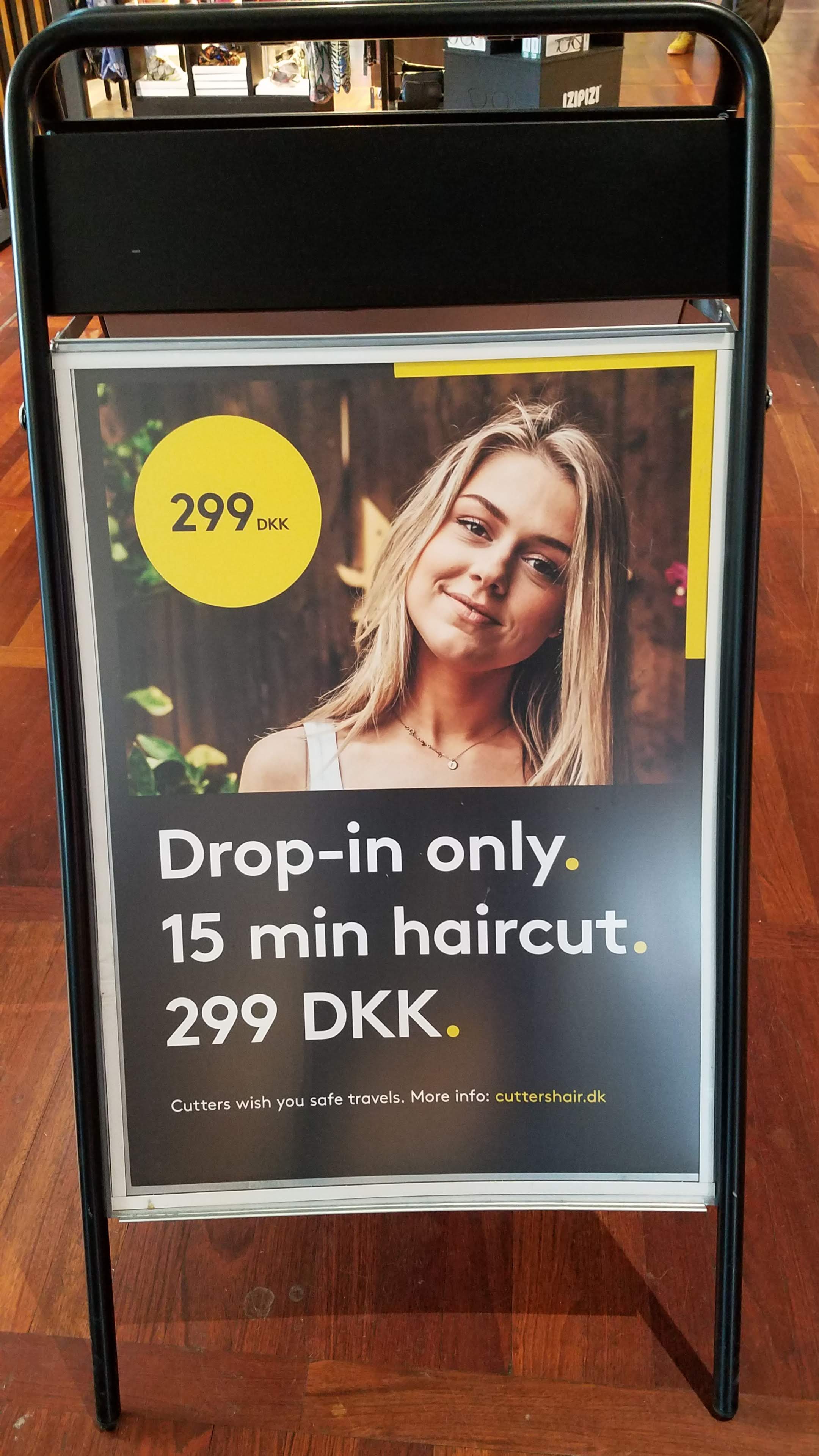 In the shopping area beyond the security checkpoint, Nancy was chagrined to realize that she could have gotten a less expensive, less time-consuming, and undoubtedly less ugly haircut at the airport had she waited only a few more days.
We weren't very hungry, but because we knew that it would be at least a couple of hours before meal service began on our flight—and also because we still had some Danish currency to spend—we sought out something to tide us over until dinner.
After much deliberation about how to use her half of our remaining kroner, Nancy bought a pineapple/passion fruit/apple juice smoothie. Michael chose two pastries from Lagkagehuset (Layer Cake House), including one filled with rhubarb that looked so tempting that Nancy decided to get one, too. Lynn and Mark also shared their prosciutto-tomato flatbread with us.
On this flight we were seated in the Comfort-Plus section, which lacks many of the Delta One amenities we had enjoyed on our way to Europe, but was perfectly adequate for the eight-hour daytime flight from Copenhagen to New York. Besides, we had the extra legroom of the bulkhead row. Pam and Eric were seated just behind us; Lynn and Mark were several rows back. The snack service was dull, the only choices being Cheez-Its and cookies, and dinner was duller: what was described as "tomato-mozzarella ravioli with spinach in cream sauce" was much too light on the tomato and spinach and much too heavy on the bland. The lemon cheesecake with caramel crust dessert wasn't bad, however. Nancy passed the hours by finishing The Story of Owen, the Dragon Slayer of Trondheim, which ended satisfactorily; Michael watched Amazing Grace, a documentary about Aretha Franklin; The Time Traveler's Wife, and Mary Queen of Scots.
The moment we deboarded and entered the terminal at JFK (about 4:30 p.m. EDT), we resolved never to fly through JFK again. While the Copenhagen Airport's system had provided a model of efficiency, JFK's setup offered classic chaos. Thousands of arriving passengers were funneled into a single stanchioned maze with no clear signage to separate those with U.S. passports from international travelers, or those who had to go through customs from those with nothing to declare. The few airport officials stationed around the maze did little to help, answering polite, legitimate questions with surly impatience. Welcome to America! Welcome home!
Once our passports had been checked, we found ourselves suddenly released from the cattle chute into an even more chaotic area where thousands of people were moving in different directions with no clear signage to guide them. Eventually it dawned on us that because our big suitcases had been checked through to Cincinnati and we had nothing in our carry-on bags to declare, all we needed to do was find the gate for our connecting flight. At that point, we said goodbye to Eric and Pam, who were headed back to Arizona, and continued on with Lynn and Mark, who were coming to Cincinnati with us. Rainstorms in the eastern U.S. were causing flight delays all along our route, so we waited an extra hour before boarding and then sat on the runway at JFK for another hour before we finally took off.
Arriving at Cincinnati-Northern Kentucky Airport later at night or on a weekend is always a little spooky because nobody's there. Shops and restaurants are closed, and anyone moving is headed toward baggage claim and the exits. Our friend Craig arrived soon after we collected our luggage and helped us load everything into his van while we tried to readjust to darker skies and muggier air than we had experienced for a couple of weeks.
It was about 10:30 p.m. when Craig dropped all four of us off at our house. You may recall that in April, Mark and Lynn had moved from Cincinnati to Utah, but they had left one big item behind: a new recreational vehicle. Tomorrow morning—hopefully, after a good night's sleep—they plan to pick up the RV and begin a new journey to visit family and friends around the eastern U.S. before heading back across the plains to St. George.
We, too, will begin a new journey tomorrow. It promises to be exciting, so stay with us! Right now, however, we are looking forward to one night of rest in our own bed.