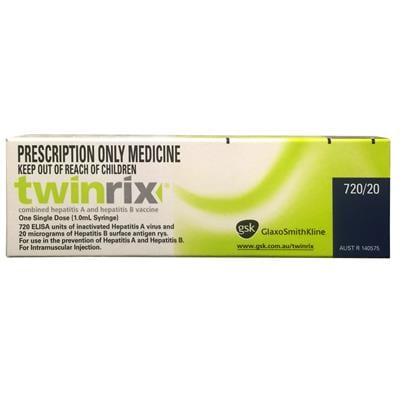 Our trip to Africa—planned with friends Lynn & Mark and Jody & Dyrk, and on our calendar since November 2017—began feeling real about the end of May, when we realized that we'd better get our immunizations. Until Michael started researching what we needed and where we could get them, we had no idea that the total tab for recommended vaccinations could cost nearly as much as another plane ticket. Hepatitis A&B was available from our primary care physicians and covered by insurance, but obtaining protection against malaria, typhoid, and yellow fever was not as cheap and easy.
Actually, obtaining protection against hepatitis was not as easy for Nancy as it should have been. Even though she warned the nurse that she tends to faint when she gets shots and probably should not take this one sitting up, the nurse declined to escort her to an examination room where she could lie down.
"You'll be fine, honey," the nurse insisted—and she was, until about 45 seconds after receiving the inoculation.
"I'm beginning to feel cold and lightheaded," she said, just before blacking out.
This fainting spell lasted longer than most consciousness-losing episodes Nancy has endured since her first one at age five. For some reason, everything the nurse did—elevate Nancy's feet, put her head back, apply a cold compress to her neck and forehead—made things worse. We'll spare you any more details, except to say that Nancy spent nearly two hours in the doctor's office that afternoon before feeling well enough to drive home.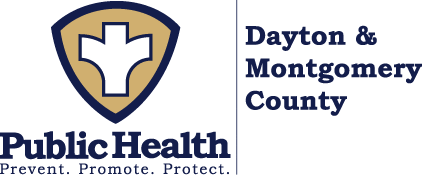 Michael had already made an appointment for us to get yellow fever inoculations at the Montgomery County Health Clinic in Dayton, which is the only place in southeastern Ohio that offers them for less than $400. As the time for our appointment approached, he seemed more apprehensive about Nancy's possible reaction to the shot than Nancy felt about getting the shot, but he needn't have worried. As the nurse proceeded through the screener questions—"Are you allergic to eggs? Are you pregnant or breastfeeding? Are you HIV positive?"—Nancy had to stop her when she got to: "Do you have an autoimmune disorder or are you taking any immunosuppressant drugs?"
"Yes," said Nancy. "I take methotrexate for an autoimmune skin disorder."
"Then you can't get the yellow fever inoculation. It's a live vaccine, so there's a possibility that you might contract the disease from the shot."
"Is a killed vaccine available?"
"No," the nurse replied.
"Then what am I supposed to do to avoid getting yellow fever?" Nancy asked.
"Wear long sleeves, long pants, and socks, use a mosquito net whenever possible, and be scrupulous about applying insect repellent. And you'll need to have the doctor who prescribed the immunosuppressant sign a waiver in your yellow card [the International Certificate of Vaccination], explaining why you didn't get the vaccine."
Now Nancy was more anxious about getting yellow fever than she had been about getting a shot.
It had been a relief to learn that the vaccines for typhoid and malaria—also recommended for travelers to Kenya—come in pill form. Michael ordered both from the Costco pharmacy, but when he went to pick them up the pharmacist would not release them because we didn't have prescriptions. So, back to our primary care physicians—but we had to return anyway to get our second round of hepatitis shots.
This time, the nurse did not object when Nancy asked to be taken to a room where she could lie down. After receiving the shot (which elicited no fainting), Nancy requested prescriptions for typhoid and malaria immunizations. She reminded the doctor that she needed killed vaccines because was taking methotrexate. The doctor, fixated on her computer screen, seemed annoyed as she replied, "I don't know anything about that; you'll have to ask your pharmacist." And with that, she stood up and left the room (thus pretty much ending Nancy's twenty-year relationship with that doctor).
Later that day, despite having asked the physician's office to send the prescriptions to Costco's pharmacy rather than to our local Kroger's as usual, Nancy got a notice from Kroger that her prescriptions were ready.
"I don't intend to pick up those medications because the prescriptions were supposed to be sent to Costco rather than to you," she called to explain. "But as long as I have you on the phone, can you tell me whether my doctor prescribed the right thing? I'm taking methotrexate, so I'm not supposed to get any live vaccines."
"Hmm, let me check on that," said the pharmacist's assistant who answered the call. A minute later she returned to say, "It looks like the typhoid vaccine your doctor prescribed is live, but I don't see anything listed about adverse reactions with methotrexate, so it should be okay for you to take."
Nancy thanked her for the information, and then called the doctor's office to have the prescriptions transferred to Costco. The next day, when Costco sent a text stating that a prescription was ready for pick up, Nancy called to find out whether both the typhoid and malaria medications had come in (so she wouldn't have to make two trips), and to ask again whether the prescribed medications were safe for her to take along with the immunosuppressant.
"Oh, no," said the Costco pharmacist. "The oral typhoid vaccine is live. You'll need to get it in shot form, which is a killed vaccine."
"Do I need to get a different prescription for that?" Nancy asked.
"You don't need a prescription for typhoid shots, but we don't offer them here."
"Where can I get one?"
"I'm not really sure. Probably the county health department."
"Okay, thanks for the information," said Nancy. "I'll come in later for the Malarone [the anti-malaria medication], but please return the oral typhoid stuff since I can't use it."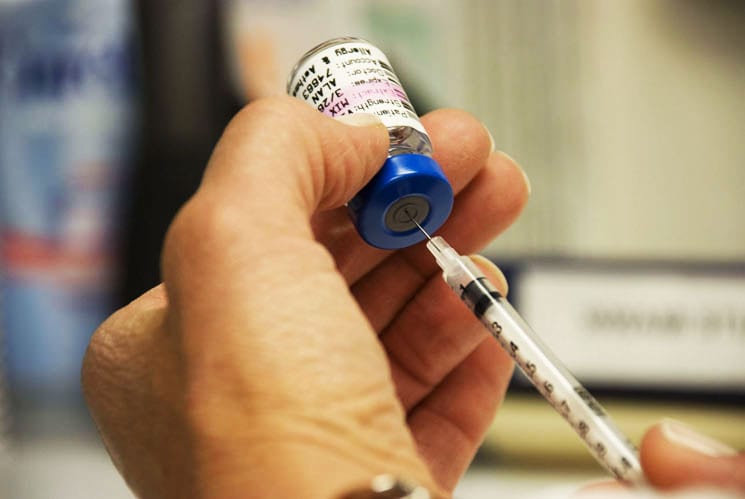 The Hamilton County Health Department does not offer typhoid shots, so Nancy had to make another trip to Dayton. Fortunately, she was able to make an appointment to get the shot exactly two weeks before our departure date—just enough time to allow the immunization to become effective before we arrive in Kenya. Michael offered to go to the clinic with her for moral support but she declined, certain that she could avoid another fainting episode as long as she could get the shot lying down. Indeed, she had no problem, especially because the nurse was very understanding and helped her get comfortably horizontal before proceeding. She also encouraged Nancy to focus on a poster across the room that depicted a monkey assembled from a variety of fruits and vegetables.
"I can identify everything in the picture except what the face is made out of," said the nurse. "Do you know what that thing is?"
By the time Nancy determined that the monkey's face was actually a chamoya, the shot had been administered and Nancy hadn't felt a thing.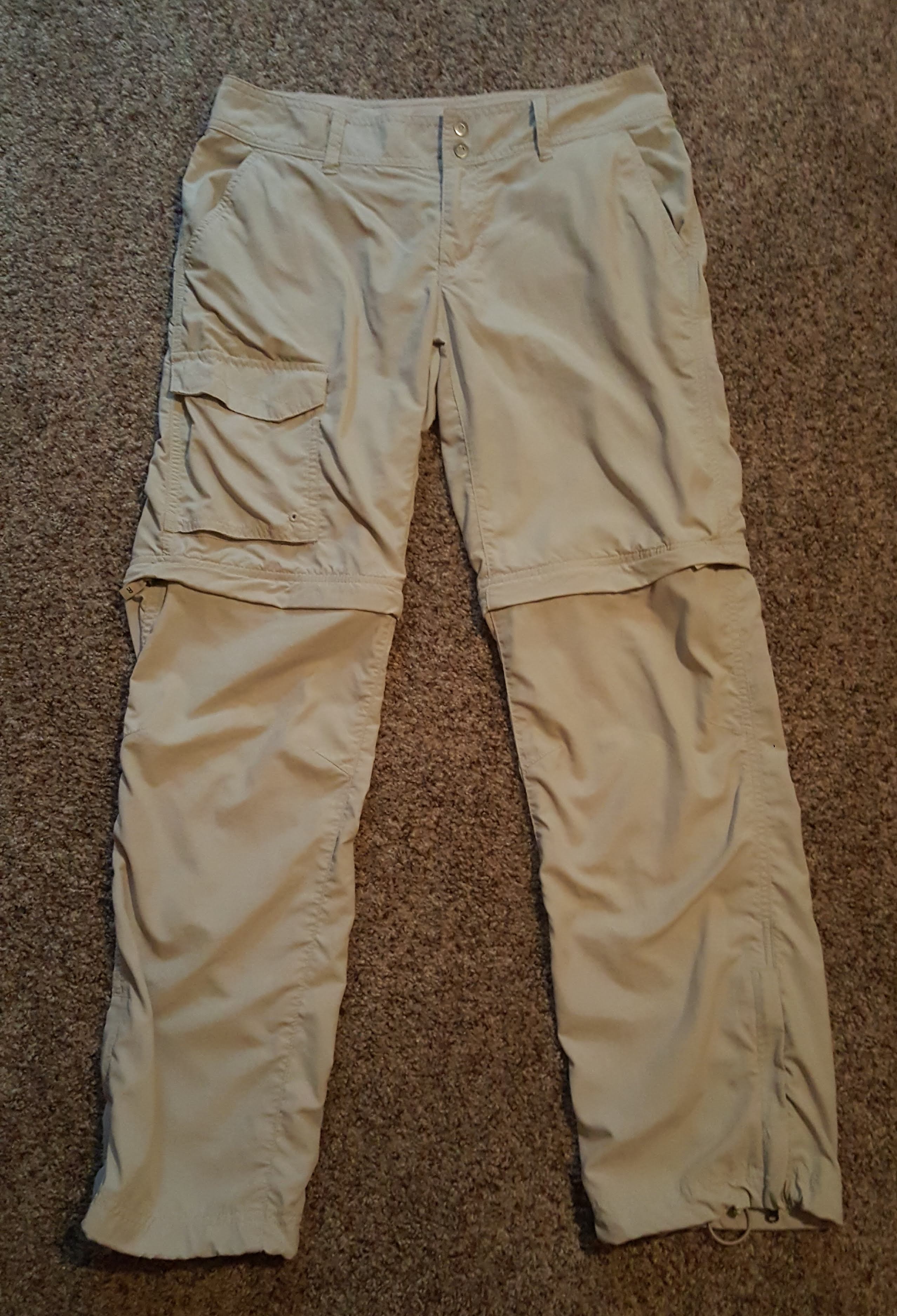 A happy advantage of having to make a second trip to Dayton was that Nancy could then conveniently stop at the Columbia clothing outlet just off I-75 on the way home. There she bought a pair of convertible trail pants that wouldn't become unacceptably short with the lower legs zipped off (hard to find), a new quick-dry shirt, and a couple of warm full-zip hoodies, all at a significant markdown from regular prices. She had already made her selections and was taking one last look through the clearance rack when she noticed a familiar form a few yards away.
"Jody?" she called.
Sure enough, it was sister traveler Jody, also seeking appropriate safari wear. Nancy was grateful that Jody had an extra $20-off coupon and was willing to share.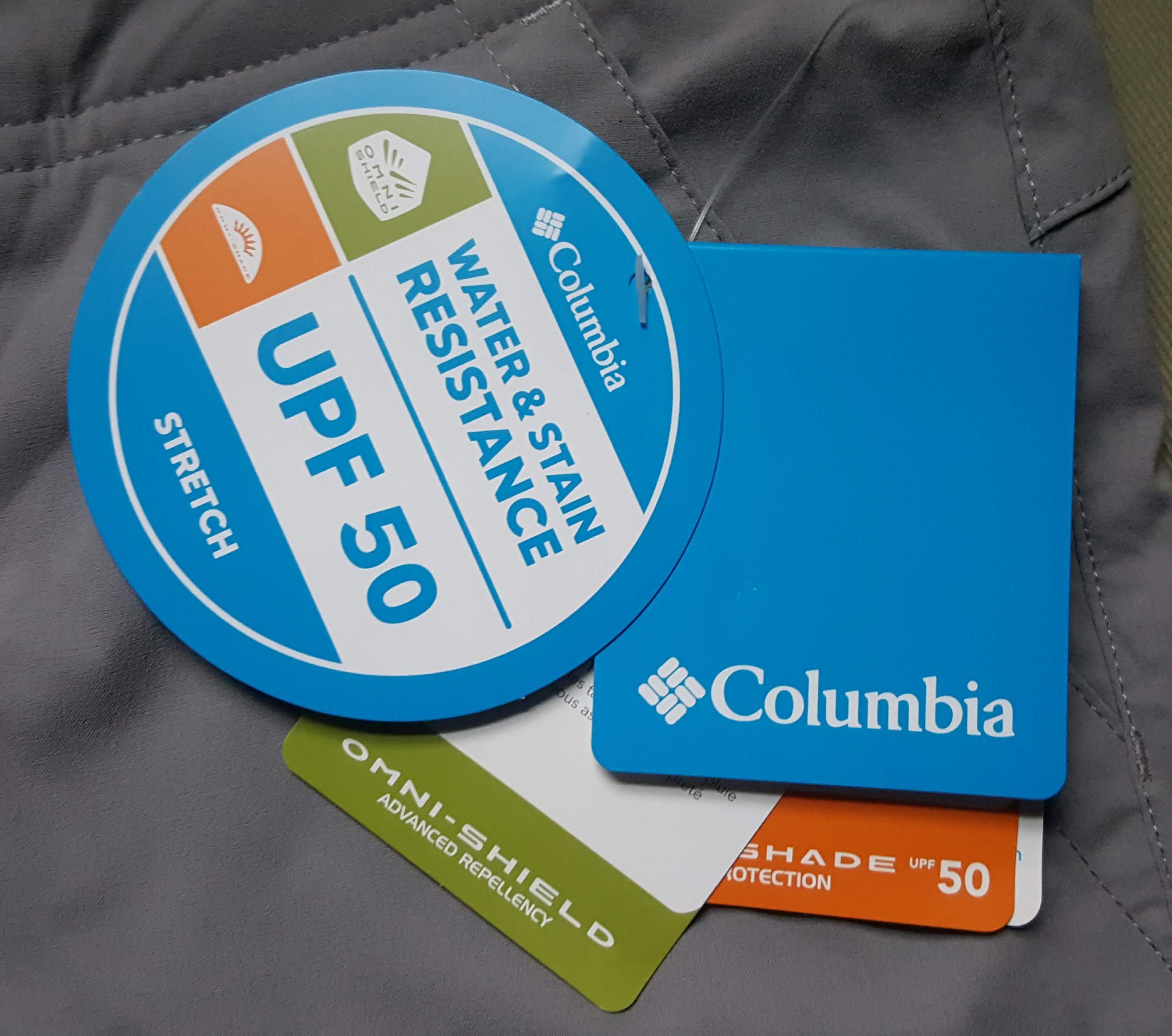 Michael didn't check his inventory of lightweight, UV-protectant, moisture-wicking, rain-repellent clothing until earlier this week, so when he realized that he probably needed a better rain jacket and a few more shirts, he had to hurry to the mall.
"Too bad you didn't come with me to the Columbia outlet," Nancy said.
"Too bad you didn't tell me you were going," Michael chided.
In the meantime, Nancy sprayed permethrin on all the pants, shirts, and socks she planned to take to provide further protection against disease-bearing insects, and then began making piles to go in the suitcase. Both of us repeatedly checked the packing list provided by Carol Gee of Discovery Expeditions and Adventures, the tour group leading our safari, to make sure we had everything we would need.
In the midst of tonight's final packing session, Nancy said to Michael, "Carol's list says we're supposed to bring three-pronged electrical adapters. The ones we've got labeled 'Africa' have only two prongs. Are they going to work?"
Michael looked at the packing list and frowned. "It does say '3-pronged,' doesn't it? We don't have any adapters with three prongs."
A call to fellow traveler Mark McC confirmed our need for another quick trip to the store. "Lynn and I noticed that '3-pronged' business this afternoon, so we just went out hunting for the right thing. Walmart and Target didn't have any adapters with three prongs, but we finally found some at Bed Bath & Beyond."
"Did they have any left?" Michael asked.
"Yes, a few," Mark replied.
"Nancy?" Michael called as soon as he got off the phone. "Where's the nearest Bed Bath & Beyond?"
The BB&B clerk looked surprised when Michael asked where he could find electrical adapters. "Someone else asked for those about an hour ago," she said.
"I know," Michael replied. "That was my friend, who is going to Africa tomorrow, too."
Now assured of being able to recharge our electronic devices while in Kenya, we zipped our luggage closed, cleared the refrigerator of perishable foods, and retired about 10:30 pm.
If you were leaving for Africa the next morning, would you be able to sleep?