Paris has been the hub for four of our last five trips abroad, so we expected to know our way around Charles de Gaulle when we arrived about 8:00 a.m. local time. This morning, however, the airport seemed less familiar because as soon as we went through the initial security check (whose sole purpose was to let us out of the arrivals area) we boarded a bus that took us on a serpentine drive through what seemed to be the entire CDG complex. Most of it was in some phase of construction, destruction, or reconstruction. This was our first visit to Terminal 2D, which houses the airlines bound for eastern Europe. It reminded us of Orly, Paris's other airport: older, not as well maintained, and catering to a less haute clientele.
The shuttle discharged us at ground level right next to our gate near the east end of the terminal but, following the type of bureaucratic procedure the French have perfected, we were required to wind our way to the west end of the terminal for another security check, then up some stairs and back to the east end for a customs check, then down another set of stairs in the center of the terminal, and back across ground level to our gate. Despite having to navigate the maze, we were happy to be in Terminal 2D because fewer people were trying to get to eastern Europe today than had been trying to get elsewhere during our previous visits to CDG. Having almost missed connections twice in the past when we were part of a herd of hundreds being funnelled into only four customs check booths, we were relieved to find not a single person ahead of us when we reached the customs officers this morning.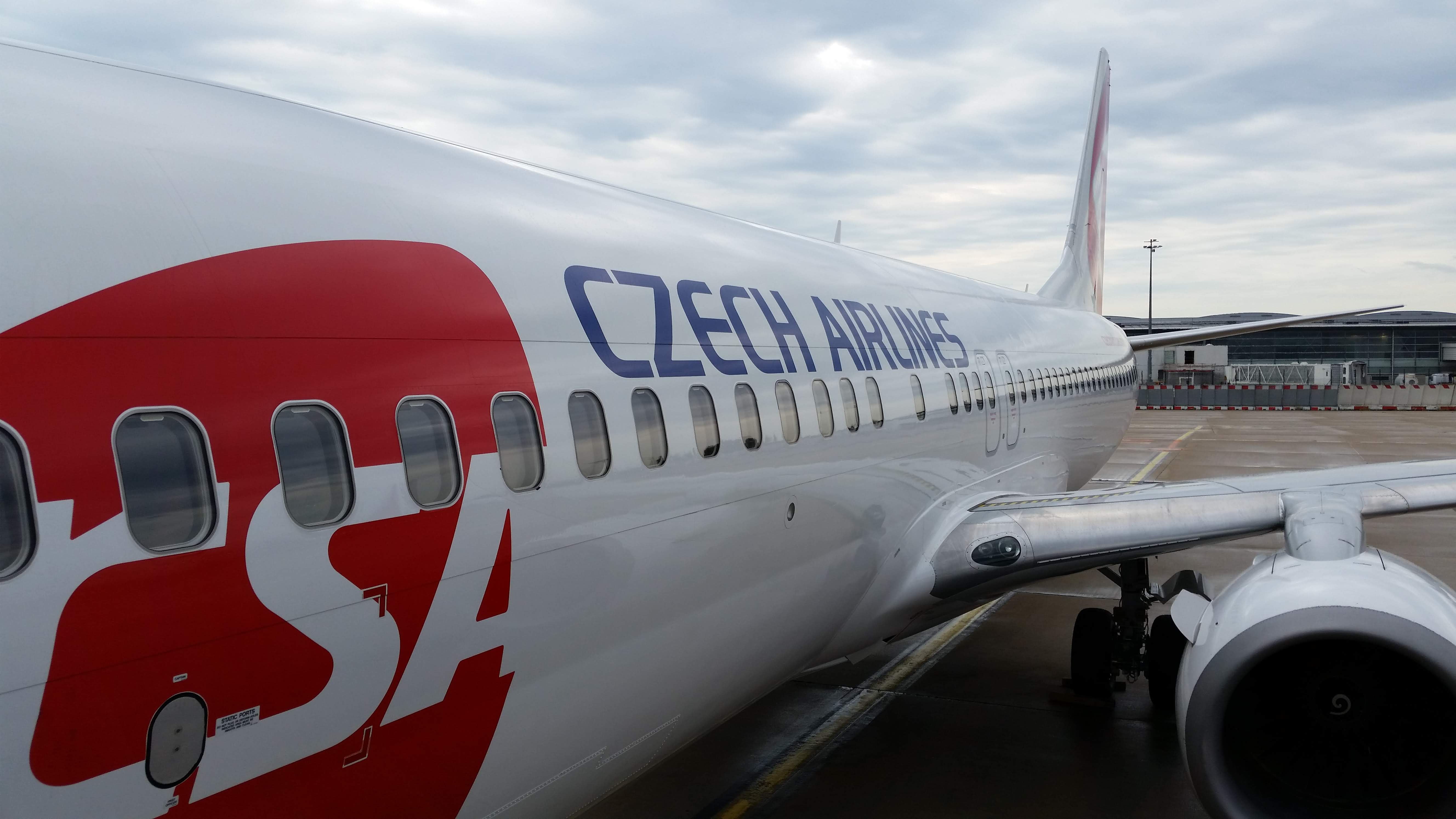 From Gate 60, we boarded another bus that took us across the tarmac to a plane from Czech Airlines (a Delta Sky Team partner). As we settled in, both Michael and Nancy realized that neither of us had heard spoken Czech spoken before—at least, not to our knowledge. Now crew members were addressing us in a Slavic-sounding tongue with no trace of Latin, but that clearly was neither Russian nor German (few harsh consonants, more melodic).
As the plane began to taxi toward the runway, Michael pulled a card from the seat pocket to give the safety procedures a cursory review, as he often does. This time, however, something riveted his attention: we were aboard a Boeing 737-800/MAX 8, the aircraft that had caused the deaths of 346 people in two separate take-off incidents within the past year. Thus Michael found himself the closest he has ever come to a full-fledged panic attack. In another circumstance, he probably would have demanded that we be put on a different flight, but today we could not afford any delay. Until the plane took off and reached cruising altitude, he was able to remain calm only by breathing deeply and praying with all the energy of his heart. (Nancy avoided the fantods by focusing on the adventures of Owen the Dragon Slayer.)
The plane landed safely in Prague about two hours later. We now had a two-prong mission: Find our companions who had flown through JFK, and locate the drivers we had engaged to take us to our hotel. En route to Prague, Michael had asked one of the flight attendants whether we were likely to disembark at the same terminal as the flight from JFK. "No," she replied, explaining that the passengers on the JFK flight would have to go through customs, but because we had gone through customs in Paris and now were on a flight from one EU country to another, we would arrive at a different terminal. Our first mission thus became a little more complex.
As we were taxing to our gate, we noticed a large Delta aircraft parked nearby, which we rightly surmised was the plane from JFK. That meant that our friends had landed and either were still going through customs, or were sitting outside waiting for us and/or our drivers.
While in Cincinnati waiting for our flight to Paris, Michael had emailed the Prague transportation company and explained that half our group would be arriving on one flight and the other half on another. He figured that the company would send at least one driver to each terminal, but once we had collected our luggage and headed outside to meet them, we discovered that all the drivers had come to our terminal. So one of the drivers took the "Michael Harward" sign and walked over to the other terminal to search for our separated companions. Eventually we were reunited, and the now ten of us (Eric and Pam, coming from Arizona, had been on the flight from JFK) divided our luggage and ourselves among the three waiting sedans, and headed into the city.
Our first impressions: Prague is very clean, with well-maintained roads and buildings. If our driver's demeanor was typical of most Czechs, they must be very friendly and open; he offered information about himself, his family, and their daily lives without having to be prompted. Again, if our driver was typical, citizens are proud to be Czech, but also staunchly European. Our driver was born in Italy of an Italian father and a Czech mother; his wife is Polish. His family speaks three languages at home, and he is fluent in two others. Czechs use their own currency, but they trade in euros and US dollars almost as much as they do in their own koruna. And though they complain of the regulations, they support the European Union.
Our drivers left us at the Hotel Paris Prague about 1:00 p.m. Central European time. The hotel exemplifies the traditional grand style, with sweeping staircases and high ceilings, decorated in the Art Nouveau style of the Sarah Bernhardt era: well-appointed, but tasteful rather than opulent. We were grateful to discover that though we had arrived significantly before the normal check-in time, our rooms were ready and we were allowed to settle in.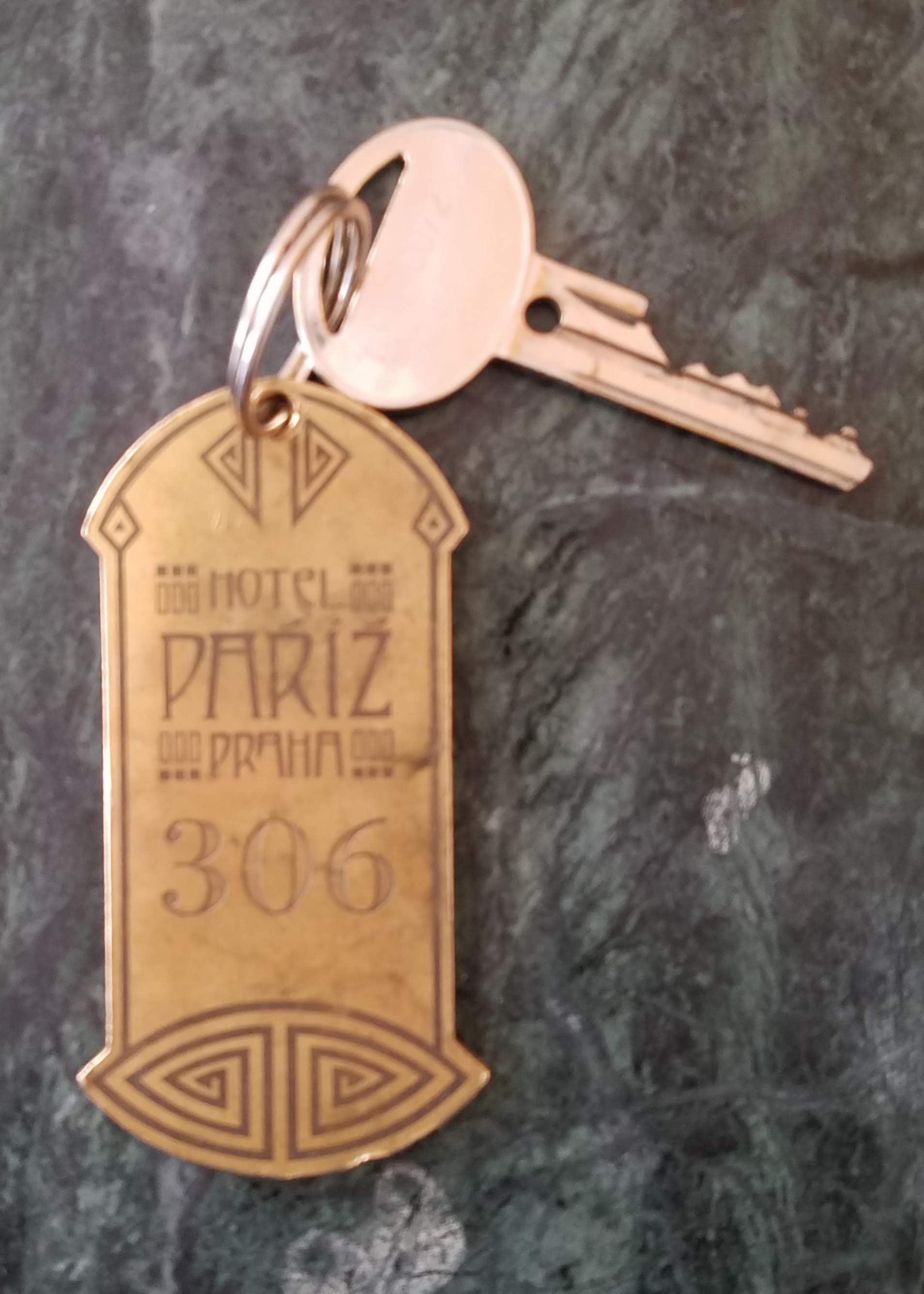 Budge, who travelled to Europe regularly during his pre-retirement career in publishing, encouraged us not to give in to the temptation to nap and simply power through until evening. Pam was still under the influence of the Ambien she had taken on the flight, so she disappeared to sleep it off; the rest of us agreed to meet in the lobby a half hour later to get some lunch and begin sightseeing. We ten were the first of the Discovery XA group to arrive in Prague; we would not be at full complement until later tonight, so Jim and Carol had planned no group activities for the day. We were on our own.

The Hotel Paris is located only a block from the road that divides Staré Mêsto (Old Town) from Nové Mêsto (New Town), about half a kilometre from the Old Town Square—the perfect location for exploring on foot through streets with restricted vehicle access. Because most of us had not eaten anything since breakfast on the plane six hours earlier, we began by looking at café menus.
We soon found ourselves in the courtyard of the Cake Shop Prague, eating pear and brie salads or Prague sandwiches (a variation on toasted ham and cheese), and drinking lemonade mixed with apricot nectar and cloves. The weather was sunny and hotter than we had anticipated, but the shady courtyard was cool and relaxing. We could have stayed there all afternoon, but curiosity pushed us on.
After lunch we happened to run into Jim and Carol, who had arrived in Prague late last night. This is now our fourth trip with the directors of Discovery Expeditions and Adventures—but this is their first visit to the Czech Republic, so although they have arranged our day trips, they are discovering the area right along with us. They always do their research, evaluating options and engaging experienced guides, so we have learned to trust their choices and respect their advice. Following tour directors could feel like having to do what your parents want to do, but to us, Jim and Carol seem less like controlling parents than like more seasoned siblings.
Before we left Cincinnati, Michael had recommended taking a one-hour boat cruise on the Vltava River, thinking it would provide a leisurely introduction to the city and help us get the lay of the land. The walk to the docks was anything but leisurely, however, because the distance from Old Town was farther than we had anticipated and we almost had to run to catch the boat before it departed. Arriving hot and winded but just in time, we were able to find seats in the shade. Unfortunately, we missed the chance to order cold drinks from the server. (Not many choices besides beer, anyway).
The Vltava (known better outside the Czech Republic by its German name, Moldau, and the inspiration for the orchestral piece by Bedřich Smetana) flows through the center of Prague, passing by Prague Castle with its imposing cathedral and monastery, and under the Charles Bridge.
We might be able to say more about what we saw from the boat had we been able to better understand the recorded commentary, which switched from Czech to English to German, French, Spanish, Italian, and Russian literally every two sentences. If you were distracted and missed the English description of any particular sight (which was easy to do because the English was delivered with a such strong Slavic accent that it was difficult to distinguish), your only hope was to try decipher it from some other tongue later in the loop. Eventually we abandoned the attempt to learn anything from the canned narration and simply enjoyed the scenery, the cool breeze, and the conversation.
After the river cruise, with no particular agenda for the rest of the afternoon, we strolled back toward the Old Town Square by way of the Jewish Quarter. We were sad that we had arrived too late to visit the museum in the Ceremonial Hall, but through the gates we could see how space in the adjacent cemetery had been maximized over the past five hundred years.
Earlier in the day, in order to get our bodies accustomed to the new time zone, we had purposely eaten only enough at our late lunch to tide us over until dinner. We had reserved a table at La Nuance, a restaurant near Old Town Square that had been recommended by Trip Advisor. While we waited for our 6:00 reservation, we joined the crowd gathering beneath the astronomical clock in the square to see what it would do as the hour struck.
The clock in Prague's tower is one of the oldest astronomical clocks in the world. Various dials on its face show the positions of the sun, moon, and planets; identify the day, month and appropriate astrological sign; and of course, indicate the hour and minute. Every hour on the hour, a carved wooden skeleton next to the clock face starts to ring its bell while other figures representing Vanity, Avarice, and Frivolity wag their heads in time. Then two windows above the clock face open and the Apostles begin rotating into view, one at a time, six at each window. When all twelve have all paraded through, the windows close, the tower bells strike the hour, and that's it. Twenty-eight seconds of fame. Twenty-eight seconds that draw thousands each hour to stand and gape.
La Nuance had set up a long table for the ten in our party, which was reduced to nine when Budge arrived from the hotel by himself and explained that Linda "needed some alone time" to combat the jet lag the rest of us were feeling, too. Except for a private party going on in an adjacent room, we seemed to have the restaurant to ourselves. This might have been a bad sign, but it was early, and the Czechs apparently follow the southern European tradition of dining late. Also, the waiter explained that a big rally was taking place in Wenceslaus Square only a kilometre away, so we figured that a lot of potential diners were hanging out in New Town to either participate or observe. (Later, we learned that more than 100,000 people had filled the square, protesting corruption in the Czech Republic's current administration. According to news reports, it was probably the largest demonstration in Prague since 1989. And we missed it!)
But back to our dinner. The menu included many tempting choices, most of which seemed to offer contemporary twists on traditional Czech dishes, featuring local ingredients. Nancy had a mixed vegetable salad, followed by roast pullet with morel sauce and cauliflower on pureed potatoes; Michael started with a beet and goat cheese salad, and asparagus risotto topped with a poached egg for the main plate.
For dessert, Michael chose a pear tart; Nancy ordered a trio of little treats on sticks that included chocolate-dipped popsicles of pear and raspberry ice, and a creamy coconut cake ball.
After dinner we made our way slowly back to the hotel through Old Town Square, which, like most Old World "squares," is not square. Opposite the Town Hall (in whose tower resides the astronomical clock) is Our Lady Before Týn, a Roman Catholic church which has stood on the site in one form or another since the fourteenth century. Off to another side is the baroque Church of St. Nicholas, which was once used by a Russian Orthodox congregation but today is owned and operated by the Protestant followers of Jan Hus, a religious philosopher who also is lauded as a Czech patriot.
A large monument dedicated to Jan Hus stands in the center of Old Town Square. Katie was particularly interested in seeing it after learning about Hus in a graduate seminar. Alarmed by the moral degradation of the Catholic Church during the fourteenth century, Hus opposed Rome's religious domination of his country and fomented discontent with the Catholic Habsburgs' political domination as well. Long before Martin Luther and John Calvin began their own protests, Hus was advocating for reforms such as performing Mass in the vernacular rather than in Latin. Like too many other religious thinkers who were ahead of their time, Hus was burned as a heretic in 1415.
It was a lovely evening for strolling, but we were too tired to enjoy it for very long. We got back to the hotel about 9:30 p.m. Although we had pulled the drapes in our southwest-corner room closed against the beating sun before we left for the afternoon, we had neglected to reset the thermostat from "Heat" to "Cool," so it took a while for the room to cool down.
We stripped the covers off our duvets and discarded the down blankets, preferring only a light covering tonight. Michael rarely falls asleep without at least an hour's worth of repositioning, but tonight he was out cold within fifteen seconds.