To our great surprise, we actually were able to sleep last night. When Mark and Lynn arrived at 8:15 a.m. to take us to the airport, we were ready and waiting. Traffic was not as heavy as we had anticipated for a Friday morning, so we arrived at Cincinnati-Northern Kentucky Airport in plenty of time to check luggage and go through security before our 10:40 am Delta flight to Chicago.
As soon as we had collected our checked bags, we boarded a shuttle headed for the international terminal on the opposite side of O'Hare. The four of us were looking forward to a nice, sit-down lunch during our five-hour layover, but once inside the international terminal we realized that (a) we could not check in because the British Airways desk would not open for another two hours, and (b) until we could check in, we could not go through security to reach the restaurants inside the international terminal—or any terminal, for that matter. Neither a bag of peanuts and popcorn from Nuts on Clark nor a Quarter Pounder from McDonald's sounded appealing to us, so our only choice was to get back on the shuttle and return to Terminal 2, where we could access a tunnel leading to the Hilton Hotel. Andiamo, the Hilton's restaurant, served us a leisurely lunch that included a turkey burger, salad, and fries for Michael and a pork-belly BLT with roasted asparagus for Nancy.
Lynn had developed a toothache a few days ago, so she and Mark shared a plate of pasta that didn't require much chewing. Her dentist had taken a look at the offending tooth yesterday and said that at this point, he couldn't do anything for it other than prescribe antibiotics to keep infection at bay until Lynn returns from the trip and can get a root canal. We're praying that Lynn won't feel miserable for the next two weeks.
We sat at the restaurant and talked until it was about time for the British Airways desk to open, then returned to the international terminal and checked in. As veterans of several overseas trips now, the four of us have become savvy packers; none of our bags weighed more than 35 pounds. Of course, it was relatively easy to pack light for this trip because we won't need any "dress" clothing, cold-weather gear, or even hiking boots. Friends who have been on safari with Discovery Expeditions and Adventures in previous years told us that we'd spend most of our days riding over bumpy roads in a Jeep, and recommended that we bring shoes that are easily slipped off when it's time to stand on a seat for a better view out the vehicle's open top.
Sadly, Michael was able to reserve neither bulkhead nor exit-row seats for the Chicago-to-London leg of our journey, which took off about 6:30 p.m. He also was unable to prevent us from sharing a row with a very large man, who filled the entire window seat and spilled over into Nancy's middle spot like a muffin top. Given our cramped situation, sleep was out of the question, so we spent the eight-hour flight watching movies and reading. Two thumbs up for Lady Bird and The Post; Michael also enjoyed watching Coraline while Nancy started reading The Interestings by Meg Wolitzer. Meal service by a couple of stewards who could have passed muster with Downton Abbey's Mr. Carson also helped pass the time, although Mrs. Patmore would have sniffed disdainfully at the food. The chicken curry and vegetable lasagne offered for dinner weren't bad, but the "cream-filled pretzels" distributed as an early-morning snack looked and tasted more like tennis balls.
The sun had just risen when we landed in London, but the day was gray and drizzly. No matter–we weren't going out, anyway. Because our luggage had been checked through to Nairobi, we didn't have to do anything more at Customs than slip our passports into a document reader and stand still for a moment while our photos were taken. After that we were free to browse Heathrow's abundant shops–or not–during our three-hour layover.
The four of us found seats near electrical outlets where we could recharge our devices (using those three-prong converters) and then took turns walking around and foraging for something appetizing to eat while the others tried–mostly without success–to sleep. Michael bought a croissant and a cup of mango chunks, and Nancy consumed a bottled vanilla milkshake, but neither of us felt like eating with much gusto. We were exhausted–and still had a nine-hour flight ahead of us.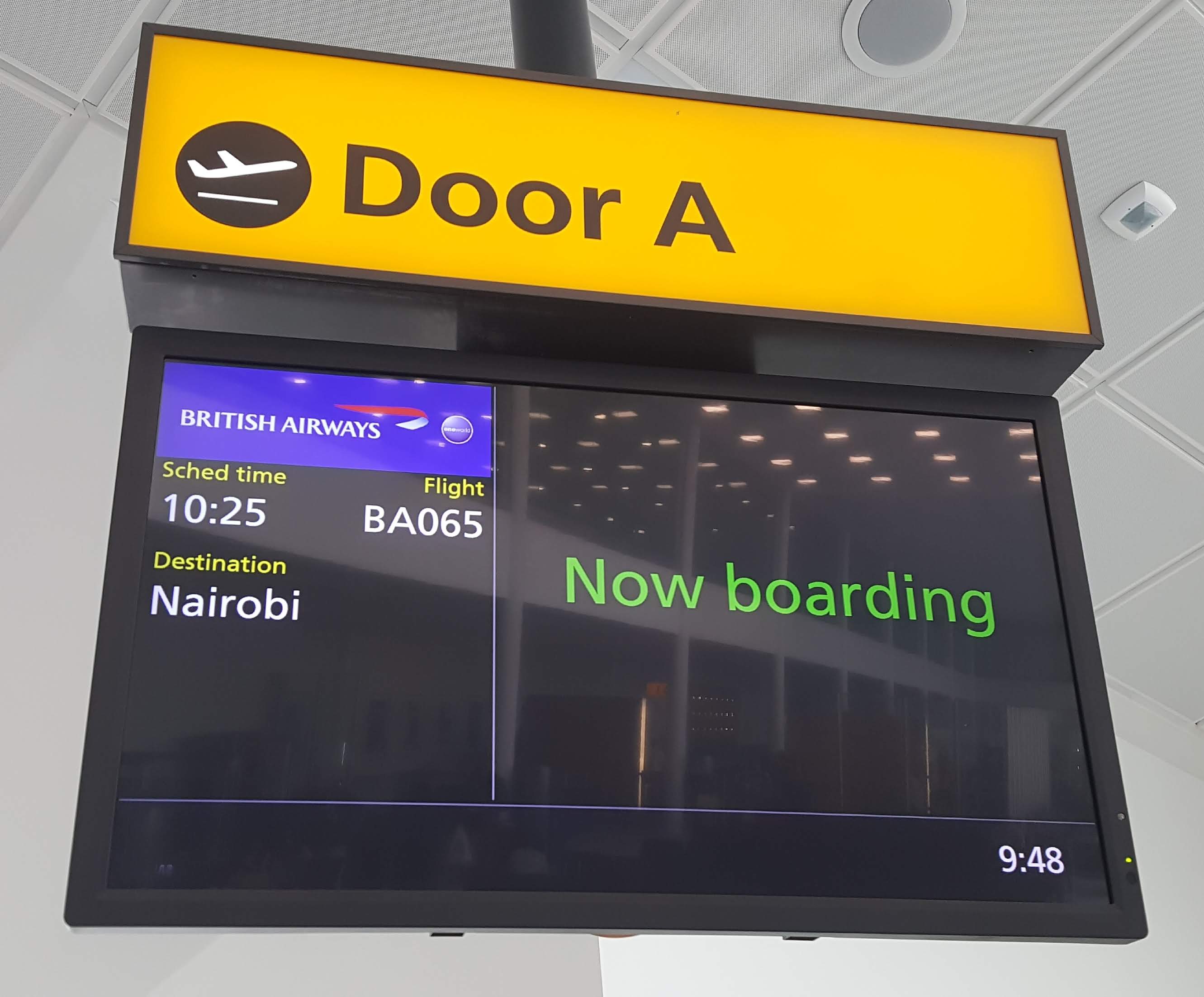 Heathrow Airport does not post gate assignments for any of its flights until an hour before boarding time, probably to encourage bored travelers to continue shopping in its duty-free stores rather than dozing at the gate. Falling asleep can be dangerous here because the airport does not announce any flight information except final boarding calls, leaving responsibility for getting to the right gate on time entirely to the traveler. There is another security check at the gate, and once you go beyond that–as we discovered almost too late–you cannot return to use the washroom or fill your water bottle without going through security again.
Although we had bulkhead seats on the London-to-Nairobi flight that afforded a little more legroom, both of us had reached that "I'm-too-tired-to-sleep stage." Michael watched more movies; Nancy slouched with her eyes closed and wished she were somewhere else. The one memorable moment occurred when we got up to use the restroom. The wait was longer than usual because two of the 747's four economy-class restrooms were out of order, but the view out the plane's rear windows was like nothing we'd ever seen before: miles and miles and miles of barren sand dunes, as far as we could see in every direction. Nancy couldn't help thinking of the closing lines of Shelley's "Ozymandias":
… Round the decay

Of that colossal wreck, boundless and bare

The lone and level sands stretch far away.
It was after dark when we landed in Nairobi, about 8:00 pm local time. We disembarked down the stairs to the tarmac, and then were shuttled to the terminal where we queued up to go through customs. This involved showing our passports, presenting our faces and all ten fingerprints to be photographed, and handing over fifty dollars in crisp, new bills in exchange for a visa. (The fact that customs officials slipped our cash into their own pockets did not inspire confidence in the probity of the Kenyan government.) Michael was a little worried when his bag did not appear with the others on the conveyor, but he finally located it among a group that had been pulled off the belt before we arrived at the baggage claim area.
Jim Gee and Edwin Wareru, Discovery XA's Kenyan manager and Jim's "brother from another mother," welcomed us to Nairobi and then ushered us into one of the Land Cruisers waiting to transport us to our hotel for the night. Some of the twenty-four members of our tour group were already at the hotel; others–including Jody & Dyrk, the third couple from Cincinnati–were due at the airport within an hour. During the forty-minute drive from the airport, Geoffrey, our driver, told us a little about the city (e.g. Nairobi means "place of cold water") and taught us some key Swahili phrases:
jambo = hello
asante = thank you (add sana for "thank you very much")
karibu = you're welcome
Carol Gee was waiting at the Southern Sun Mayfair Hotel to help us check in. We have become good friends with both Carol and Jim during our travels together, as well as during their visits to Cincinnati to see their son and his family. (We also lately discovered that their daughter and her family–which includes a set of toddler triplets–lives just down the road from our daughter Hillary in Salt Lake City.)
Our room was located on the second floor down a long hallway at the back of the hotel complex. By the time we got there, we didn't really care where it was, as long as it had a good bed where we could finally stretch out in a fully horizontal position and go to sleep.