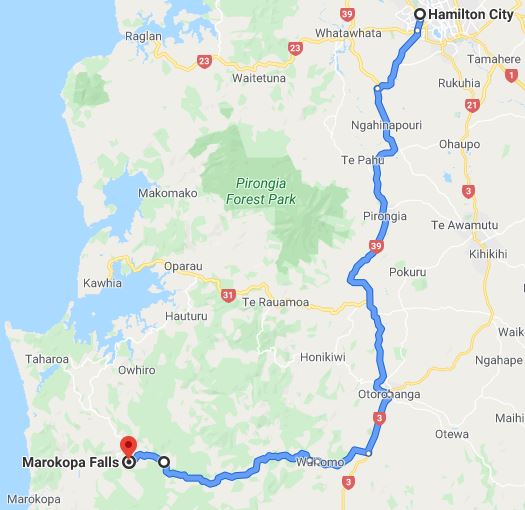 One of New Zealand's top tourist destinations since the early twentieth century is Waitomo, a district of the Waikato Region known for its system of karst caves (caves formed in soluble limestone). Waitomo (a combination of the Maori words for water and sinkhole) is located about 75 kilometres directly south of Hamilton. Its limestone bed was formed millions of years ago from seashells that accumulated on the ocean floor when the area was still submerged, and then got compressed under layers of sand and mud. Gradually, as the land was pushed up out of the sea, the softer sand and mud were stripped away and the limestone was exposed. Over a long period of time, some of the limestone was dissolved by slightly acid streams, forming cave systems along fissures.
On our first visit to New Zealand in 2014 we had gone "blackwater tubing" in one of Waitomo's most popular caves, an expedition that involved donning wetsuits and "gum boots," clutching an inner tube, and leaping backward over a waterfall in the dark for a chance to see the cave's world-famous glowworms. (This is no joke: read about our underground adventure here.) This time we chose an option that did not require wetsuits: a lesser-known cave system to the west of the town of Waitomo. Barry and Eva came with us—or rather, we went with Barry and Eva in their car, with Barry at the wheel.
Passing the Waitomo Glowworm Caves Visitors Centre where crowds were lining up to buy tickets, we continued on Te Anga Road, closely following the Mangapohue Stream, whose waters have gradually carved a steep, narrow gorge into the limestone. Eons ago, the Mangapohue had flowed underground, but over time it eroded the rock overhead enough that most of it collapsed. The part that didn't collapse became a natural bridge seventeen meters above the water.
A short distance from the carpark for the Mangapohue Natural Bridge Scenic Reserve, the path becomes a boardwalk leading through the gorge and under the arch to a platform with impressive views back down the chasm. From there, we thought we were following a loop track, but we lost it once we climbed over a stile into a cow pasture (which is what the guidebook had said to do). After hunting for the trail in the low grass for a while (Eva described this part of our day as "the field trip"), we eventually gave up and went back the way we had come, but not before we had stumbled upon an assemblage of boulders that looked like a playground for young dwarfs.
About four kilometres farther along the road, just past the village of Piripiri, we stopped for another short walk through the native bush of the Piripiri Caves Scenic Reserve. We descended a short flight of stairs to the cave entrance and then another flight when we got inside—wishing we had worn headlamps and brought a powerful torch or two. The flashlights from our phones penetrated the darkness just enough for us to see that although the cave wasn't very wide, the cavern below the observation deck must have been very deep. Later, we were intrigued to learn that in 1962, the bones of a 35-million-year-old fossilized whale had been found in the cave, along with fossilized shark bones.
Another couple of kilometres along the same road, just before the village of Te Anga, we turned into the carpark for Marokopa Falls and followed yet another short track through the bush to a bluff overlooking the Marokopa River on the opposite side from the falls. While the sights we had seen thus far during the morning had been pleasant but not terribly exciting, the view of the falls was truly spectacular. Even in the drought conditions we've been experiencing this month (as we drove through the town of Otorohanga on the way to Waitomo, we noticed that Level 4 Water Alert signs had been posted—Hamilton is at Level 3) the volume of water tumbling over the falls was tremendous. We spent a while watching in awe (also in some impatience, waiting for another group of tourists to move away from the edge of the narrow viewing platform so we could have a turn to take photos), but decided against climbing over the rail and down the rocks below to reach the water, as some other people were doing. We also decided against trying to find our way to what was probably an unauthorized track on the other side of the river. There we could see people exploring the frothy pools just downriver from the falls, as well as the tiny figures of a few daredevils trying to climb to the top of the cliff the water was spilling over.
Heading back into Waitomo, we stopped at the Visitors Centre for a bio break and decided to eat the lunch we had packed on a picnic table at the far end of the carpark. As we ate, we were joined by a small but confident fantail that obviously had had lots of previous interaction with humans. Completely fearless, the bird perched on a small tree next to our table and kept up a running chatter of chirps, occasionally lifting off and flitting so close that we were afraid it might try to grab the sandwiches out of our hands.
On our way home, Barry recommended that we stop at Big Azz, a large garden center/produce market/gift shop/tour bus stop in Otorohanga that also happens to sell twenty different flavors of Tip Top ice cream. ("Recommended" probably isn't the right word here because Barry pulled into the parking lot without giving us a choice, but knowing that ice cream was involved, none of us objected.)
Tip Top is New Zealand's major commercial ice cream brand, available not only in two-litre tubs at the grocery store, but also by the scoop at many neighborhood dairies (what convenience stores are called here), bakeries (where meat pies and deli sandwiches are sold), and roadside souvenir shops. Barry had been to Big Azz before, and knew that not only did it offer a wide variety of flavors, but also very generous scoops. While Tip Top ice cream can't be considered in the same class as some gourmet gelatos and sorbets we've had, for a commercial brand, it's very good: rich, creamy, naturally flavored, and with less overrun than one might expect. The most popular flavor in New Zealand, we're told, is Hokey Pokey: vanilla ice cream with chunks of honeycomb toffee. That's what Barry chose, but Pure Passionfruit, Kiwifruit Pavlova, and Gold Rush (chocolate-coated honeycomb toffee in caramel ice cream) were hard to pass up.
By the way, the name "Big Azz" is a play on a popular Kiwi turn of phrase for comparative descriptions. New Zealanders tend to truncate the comparison, leaving the description to be completed in the listener's imagination. For example: "That [rugby] play was sweet as." Or: "The meeting was long as." Or: "He drives fast as." Or, in this case, "Our ice cream scoops are big as."
In addition to ice cream, we bought a bag of plums and a couple of avocados at Big Azz before driving back over the dry brown hills to Hamilton. We got home in time to heat up some leftovers for dinner and then go to our third rehearsal with the Hamilton Civic Choir—but that's a story for another day.