We had warned our neighbor Budge that when he picked us up at 6 a.m. on Monday 23 December for the drive to the airport, we'd have a lot of luggage. Deciding what to take for 23 months had not been easy, especially when we considered that everything we took would have to fit in only four checked bags and two carry-ons.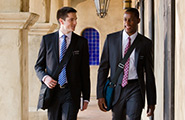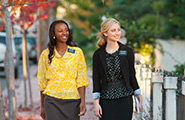 Most missionaries for the Church of Jesus Christ of Latter-day Saints are supposed to adhere to a notoriously conservative dress code, although specific rules vary from mission to mission. There was a time when people around the world could immediately point out the Mormon missionaries serving in their communities because they were the pairs of young men wearing dark business suits with white shirts and ties no matter the situation—or young women in long skirts and sturdy shoes. That model is beginning to change. For one thing, more and more of us are not young. Another obvious change is that, as of December 2018, female missionaries can wear slacks anywhere except church services. Most male missionaries are still required to wear white shirts and ties every day, but dark suits are optional except for "best dress" occasions, and some missions allow more casual attire for particular assignments. For example, our friends Tara and Todd, who are serving as family history specialists in Copenhagen, were told that when they go to work at the Danish national archives, they should wear casual clothing—T-shirts and jeans, even—so they won't stand out from the regular employees. Those assigned to construction or agricultural service missions of course wear normal work clothes.
Because Michael will be working mostly in the back offices of the Matthew Cowley Pacific Church History Centre rather than regularly dealing with the public, he had hoped to be able to get away with "business casual" colored shirts and no tie—but no dice. He may not have to wear a suit coat all the time, but expected daily attire for him includes a white shirt and a tie. So he bought two new suits and six white shirts (taking advantage of a Lands' End 40%-off coupon), two new pairs of dress shoes, and two belts, and then—after selecting several ties from the collection he has amassed over the past forty-five years—declared his missionary wardrobe complete.
Nancy's clothing selection process was not as simple. In the late 1970s, when one of her college friends was called to serve a mission in South America, sister missionaries heading there were advised to limit their wardrobes to white or plain pastel blouses and plain dark skirts. Initially the friend was dismayed, but then realized that such a restriction actually simplified her preparation and packing process. Today's guidelines are much less stringent. Nancy will be required to wear standard missionary attire, but "standard" can include dresses, skirts, pants, shoes, and accessories in an array of colors and styles—and she was relieved when Eva told her: "Don't bother bringing nylons because nobody here wears them." Most of the mix-and-match ensembles Nancy is bringing were chosen from what she already had in her closet, but she had to make sure that one set of outfits is suitable for summertime and another for Hamilton's wet, windy winters. In addition, both of us need to bring clothing for the winter weeks we will spend in Utah. Thank heaven for squishable down jackets.
Airline weight restrictions have been a concern because in addition to clothing, we were advised to bring not only all the prescription medications we would need for two years, but also any OTC meds and supplements we normally use. Do you have any idea how much a two-years' supply of fish oil capsules and glucosamine tablets weighs? Add to that several bottles of contact lens solution, facial moisturizer, hair finisher, and insect repellent (which are either unavailable or very expensive in New Zealand) and you've nearly reached the fifty-pound limit for one bag.
On Sunday 22 December, after singing in the choir for Montgomery Ward's Christmas program and bidding goodbye to our ward family, we went home, finished off the last food in the refrigerator, did a final load of laundry, packed our bags, weighed our bags, repacked our bags, re-weighed our bags, and then drove the half hour to our stake president's house to be set apart as missionaries of The Church of Jesus Christ of Latter-day Saints. In this simple ceremony, the stake president laid his hands on our heads and invoked the Lord's blessings as we begin our service to him and to the people of New Zealand.
During our first week in Utah, we celebrated Christmas with our daughter Hillary and her family in Salt Lake City. Newlyweds Nat and Emma joined us for dinner on Christmas Eve, but spent the rest of the week with Emma's family in central Utah. In the previous weeks, when our grandkids had asked what we wanted for Christmas, they all looked incredulous when we replied, "Nothing!" Even though we explained that we already had everything we needed to take with us to New Zealand and didn't have room in our luggage for anything else, they still looked at us as if we were crazy. Hillary and Jake had hung two extra stockings over the fireplace along with the seven Nancy had knit previously for their family, but we were relieved when Santa left only consumables in ours. The dark chocolate English toffee with pistachios from Trader Joe's disappeared over the next few days as we played games and read stories with the kids, whose ages range from one to ten.
On the evening of Friday 27 December, Hillary and Jake hosted a farewell open house for us. Several friends and relatives who live in the Salt Lake area came, and it was fun to introduce people from one era of our lives to those from another era. Friends from our sojourn in Chicago (1979-1982) met others from our Delaware days (1986-1996), as well as some former residents of Blackfoot, Idaho (where Michael grew up) and Cincinnati. We wish our time to talk with each hadn't been so limited, but we're grateful for relationships that have withstood wide geographical distances and long intervals without contact and retained their value for decades.