This morning we awoke where we had started last Saturday: the cruise terminal at Piraeus, near Athens. We ate an early breakfast and then hurried to squeeze our pajamas and toiletries into our carry-on bags before thanking all the crew members who had made our cruise such a memorable one. Farewell, Wind Star! We hope to meet again.
During the bus ride through Athens to the airport, a couple of things stood out: First was the sense of the Acropolis as the center of everything; the city, spread out in all directions, almost seemed to be bowing toward it. The second notable impression came from surveying poor sections of town while speeding by on the freeway: blocks of drab, functional apartment buildings and even a squatters camp, perhaps inhabited by Syrian refugees with nowhere else to go. In stark contrast were the affluent suburban neighborhoods closer to the airport, where even the metro stations looked cleaner and less marred by graffiti. Recognizing anew the disparities between the Haves and the Have Nots is humbling. We are very grateful to have the time and the means to be able to have experiences such as this marvelous trip, and we are determined to find ways of translating what we have learned from our travels into positive action.
Our handlers were anxious to ensure that we did not miss our flight this morning, so we arrived at the airport rather early–indeed, so early that it would be another 45 minutes before we could even check in. We were happy to kill some time in a small but fascinating archaeological museum within the terminal, which displays ancient artifacts unearthed during the construction of the airport. These include many specimens from a fifth-century BC ceramics factory, excavated on land that is now a runway. Nancy was most impressed by a ten-foot-high human figure carved in bas relief. The artist who sculpted such exquisite hands from a block of marble definitely was no primitive hack. (Sorry, no photos allowed.}
Before boarding our flight, Michael realized that even though we had been in Greece for more than a week, we had never eaten any baklava. Hoping to remedy that deplorable situation, he went in search of a food counter that sold the pastry and found some that was very sticky and almost too sweet to swallow, so we cut it into very small pieces and shared it with the group. We also shared a classic Greek salad of fresh cucumbers, cherry tomatoes, and feta cheese. Earlier this morning, knowing there would be no meal served on the plane nor on the bus that would take us directly from the airport to the Vatican, most of us had taken advantage of the opportunity to construct a sandwich from the bread and cold cuts at the Wind Star's breakfast buffet. Nan, who had not come prepared with plastic sandwich bags, won accolades for amazing ingenuity when she revealed that she had wrapped her sandwich in a complimentary shower cap.

Our Alitalia flight to Rome was cramped, but comparatively brief. Jeff J, seated next to Nancy, engaged her in an engrossing discussion about what heaven would require to qualify as heavenly while their respective spouses dozed off. After we had landed and everyone in the Gee Group had gathered their luggage and passed through a cursory immigration check, we boarded a chartered bus bound for the Vatican. A guide named Danilo–who could not have looked or sounded more stereotypically Italian–must have given us a typical introduction to Rome as we traveled through the city, but frankly, we don't remember a word he said.
In contrast, Fabrizio, the guide who met us at the Vatican and is scheduled to stay with us for the rest of our time here, was unforgettable–a veritable fountain of information. One of the first things we learned from him is that the Vatican State comprises more than just Vatican City. Fabrizio explained that a number of other properties throughout Rome have been granted "special extraterritorial privileges," which we understood to mean that the Vatican State is actually a fairly extensive, non-contiguous geographical entity spread out across the city.
As we disembarked from the bus and passed through security at the Vatican, Fabrizio handed out the earbuds and audio receivers we would use to hear his commentary for the next few days. Then he led us to a crowded square within the Vatican Museum complex, where he used a poster showing the ceiling of the Sistine Chapel to preview what we should look for when we got inside. He also explained that the green lawn we were prevented from walking across (in Europe, one never treads on the grass) was growing over the subterranean chambers of the Vatican's archives: in Fabrizio's words, "a sort of bomb shelter" protecting priceless historical documents such as the decree annulling Henry VIII's marriage to Catherine of Aragon and the lengthy letter on Christian liberty (and Roman corruption) that Martin Luther sent to Pope Leo X in 1518.
Looking around the square as we waited for our turn to enter the museum, we noticed some significant changes that have occurred since our last visit to Rome in the late 1970s. First, there's the security check, and a much more organized process for moving thousands of visitors through the museum. Second, building exteriors and monuments are a lot cleaner than they were forty years ago; everything looked brighter and better maintained.
The Vatican Museum is even more overwhelming than the Louvre: too much to absorb even if one could spend a whole month inside. We had only a few hours, so Fabrizio wisely chose not to give us the history of every item we encountered–although we had the impression that he could have. Even though he commented on only a fraction of the works on display, we found it hard to process all the facts (and opinions) that poured out of him.
In the Court of Statuary, we saw significant sculptures from the Classical period, including the Apollo Belvedere and Laocoon. Both of us had studied these in our Humanities classes, but Fabrizio reminded us that Michelangelo and other Renaissance artists, who depicted the human body so realistically, had depended upon these sculptures for anatomy lessons as well as artistic inspiration. (Using nude models–or examining cadavers–was frowned upon in the sixteenth century).
A wide gallery that funnels visitors through the Vatican Museum toward the Sistine Chapel is filled with a series of sixteenth-century Flemish tapestries illustrating scenes from the life of Christ. They were originally created to hang in the Chapel, but were moved to their own gallery in the 1800s so they could be seen more easily. Farther along the same corridor is a series of huge maps, painted on the walls. They show the various regions of Italy as they were constituted in the sixteenth century. The frescoes are mildly interesting, but definitely not in the same league with the work by Michelangelo that we were about to see.
The last time we had visited Rome, in October 1978, Pope John Paul I had just died, and the Sistine Chapel was closed to visitors while the College of Cardinals met to haggle over who would be the next Pontiff. We were among the thousands of people milling about the Piazza San Pietro, hoping the announcement that the cardinals had reached a decision would come while we were there, but white smoke didn't rise from the Chapel's chimney until a week or more later.
Nancy had had a chance to see the Chapel's famous ceiling on a previous visit, but Michael was very disappointed by this stroke of bad timing; thus prospect of finally being able to go inside the Sistine Chapel on this trip was very exciting for him. Nancy was equally excited to see it again because in 1976, layers of soot, dust, and corrosion built up over centuries had rendered Michelangelo's paintings barely visible in the Chapel's dim light. Since then, the paintings have been thoroughly cleaned, restoring the Chapel to its original splendor.
And splendid it is. The colors are rich and vibrant. Details that had disappeared into the shadows are now clear, making it easier to identify the prophets painted in panels around the central creation scenes. Even though Fabrizio had reminded us that the Sistine Chapel was built to the dimensions specified in the Old Testament for the temple in Jerusalem, Michael was surprised at how big it actually is; and even though this afternoon it was as crowded as a Paris metro station, he did not feel at all agoraphobic. Signs posted at the entrance–and occasional announcements from irritated guards–remind visitors that the Chapel is a sacred place where silence should reign, and although some people in the crowd could not refrain from talking, we definitely felt reverently awed. As Michael described the experience, our spirits seemed to soar above the throng and bask in the beauty of the scene overhead.
Sadly, visitors to the Sistine Chapel are pretty much forced to keep moving toward the exit. Once we had been herded out, we headed for St. Peter's Basilica, only a few steps away. Just to the right of the entrance is Michelangelo's Pietà, in our opinion one of the most beautiful artworks in the world. The ornate cast iron barrier and Plexiglas enclosure built to protect the sculpture after it was defaced by a hammer-wielding madman in 1972 are distracting, but the work still inspires. Today, the tender portrayal of Mary holding her crucified son reminded us that the Basilica, too, is a sacred space, built and maintained by dedicated followers of Christ. And on this Saturday afternoon, the African mass being celebrated in the chancel also reminded us that this is a place of worship.
It was late afternoon when the Gee Group reboarded the bus and headed to the Hotel President. By the time we had checked in and taken our luggage up to our rooms, all of us were tired and hungry, but unlike on the cruise, no dinner was automatically waiting for us in the hotel dining room. Amanda's "clan" had planned to meet another family member who also happened to be in Rome this weekend, so they struck off on their own; meanwhile, Jim and Carol, in consultation with the hotel staff, made a reservation for the remainder of our group at a restaurant called Tempio di Minerva, about half a mile from the hotel. Nancy was suspicious about the quality of a restaurant that (a) was able to seat a party of twenty on a Saturday night with only a half-hour's notice, and (b) offered shuttle service to and from the hotel, but she didn't have the energy to protest and try to find an alternative.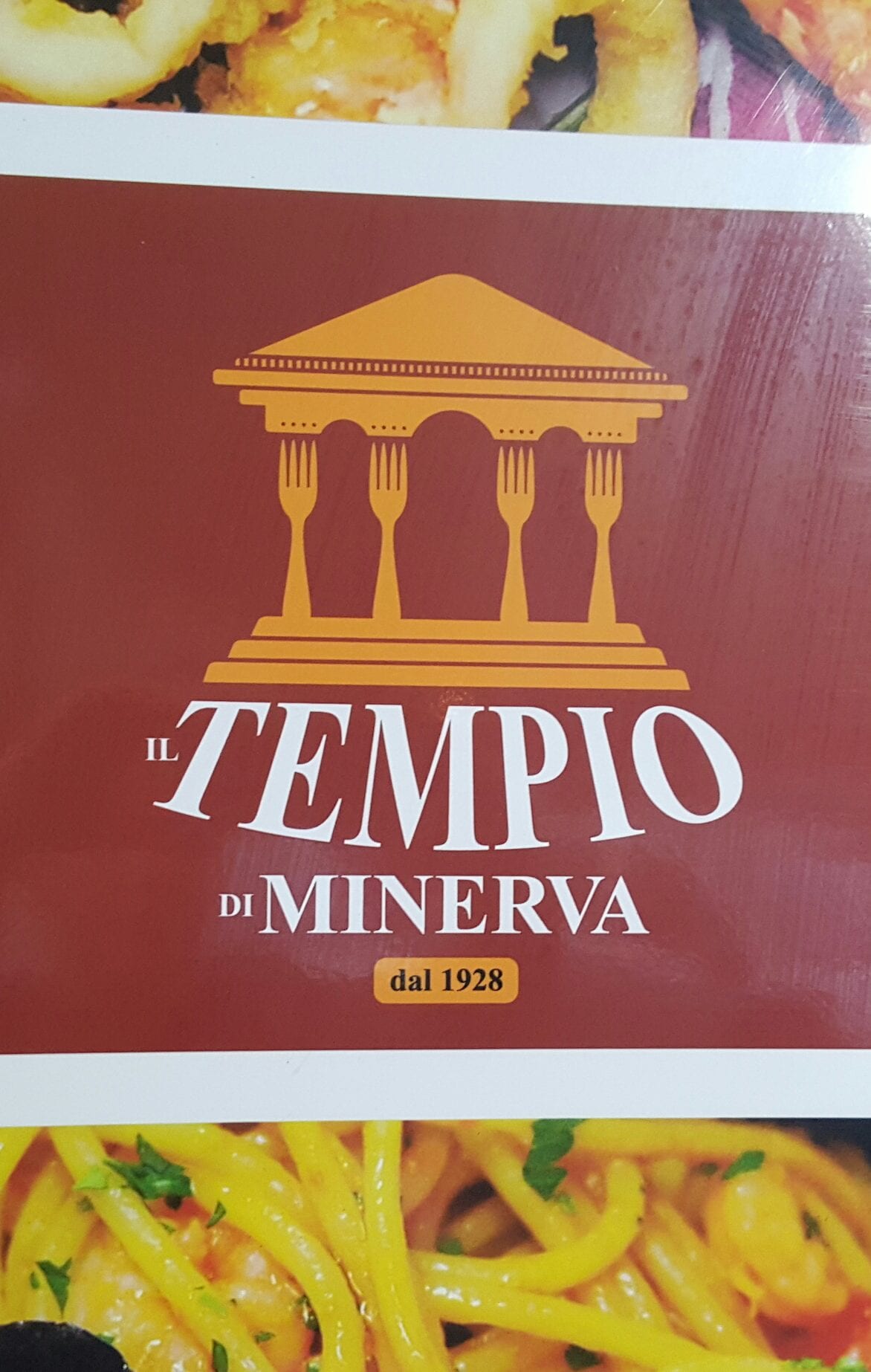 She probably should have. Those of us who walked to Tempio di Minerva soon found those who had taken the shuttle seated around a long, narrow row of tables that had been shoved together on the sidewalk in front of the restaurant. (Cathy and Jeff J were not among them and did not show up later, so hopefully they found a better option elsewhere.) An extensive menu–which assured us (in English) that this establishment served "Typical Italian Food"–was posted both on a signboard near the street and in the window behind us, but the type was so small and the light so dim that all of us had to get up from our chairs and crowd around one of copies to be able to read what was included with each numbered plate. Several waiters seemed to be attending our group, but it was a long time before any of them offered to take our orders, and even longer before those orders were fulfilled. During the interim, we were serenaded by an accordion player performing the kind of Typical Italian Music one would expect from a Typical Italian Street Musician; we were treated to Funiculi, Funiculà, the theme from The Godfather, and other favorites beloved by Typical American Tourists. When our food finally began arriving–appetizers and entrées served in no particular order–the wait staff not only had no idea who had ordered what, but they couldn't even identify exactly which of the numbered menu items were on plates in their hands.
Our "Typical Italian Food" included an unremarkable salad served with oil and vinegar, bruschetta with prosciutto, grilled vegetables, rigatoni with broccoli and sausage, and spinach ravioli. We also sampled the Margherita pizza someone else had ordered. Traditionally, the pizza named for an Italian queen is composed of red tomatoes, white cheese, and green basil to reflect the colors of Italy's flag; in tonight's version, the tomatoes were represented by an undistinguished sauce and the basil was conspicuously absent.
No one was interested in trying the tiramisù or the cannolis, the only desserts on the menu, so after we settled the bill (which the manager refused to divide up by couples, even though the waiters had told us that they would) Michael asked one of the least incompetent waiters where we could get some gelato. Without hesitation, he told us to walk up to the light at the next intersection, turn right, and then look for Fassi a few blocks farther down the street.
Most of the group who accompanied us to the light at the next intersection went into a grocery store on the corner to buy bottled water, but Richard and Judith followed us on around the corner. The neighborhood, filled with dark, shuttered storefronts and deserted warehouses, seemed a bit sketchy, but the four of us were willing to possibly put ourselves in harm's way in the all-important quest for gelato. Eventually we could see some big lighted windows ahead, and then we could hear a lot of conversation and laughter–good signs.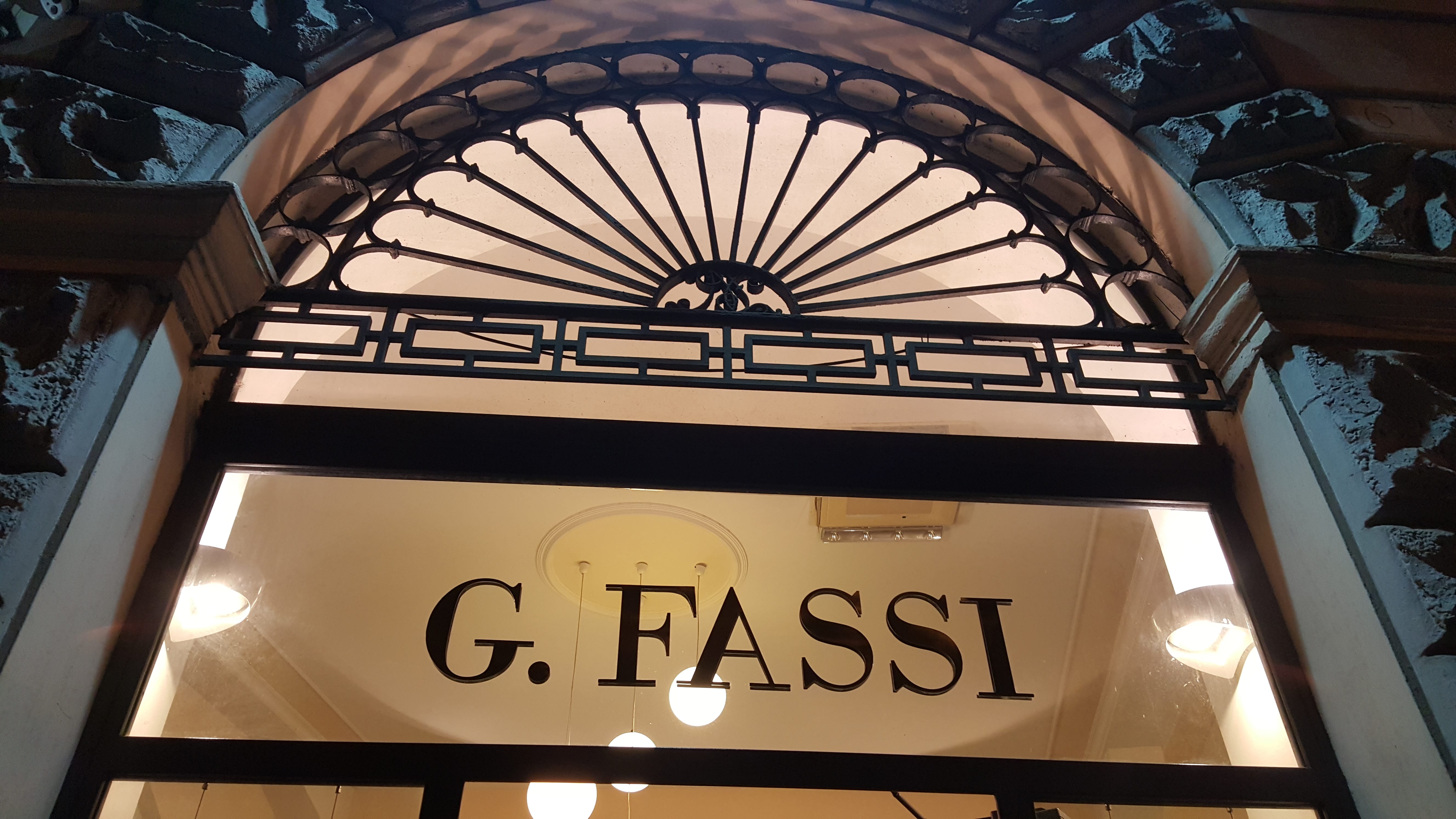 What immediately became apparent is that not only does Fassi serve gelato, but Fassi must be a local institution: the Roman version of Cincinnati's Aglamesis Bros. The brightly lit gelateria is about the size of a basketball court and is decorated in the same turn-of-the-[twentieth]-century style one associates with classic American ice cream parlors; indeed, the company was founded in 1880, and its only Italian location probably hasn't changed much since. (Fassi's only other store is, surprisingly, in Seoul.)
Tonight the gelateria was filled with young Italian families, older couples, groups of teenagers, Asian tourists, solitary foreign students, and us. This is a truly Italian establishment: vibrant and chaotic. Somehow we figured out that we were supposed to get in line at the cashier's stand and pay first, then take our receipts to the very long counter and wait for someone to help us.
Deciding what to order was tough: there must have been fifty different gelato flavors, plus an assortment of ice cream sandwiches, petits fours, parfaits, and other frozen delights that we could not attach a name to. Michael filled his medio-size cup with cioccolato, fragola (strawberry) and cocco (coconut); Nancy was pleased to find out that she could squeeze three flavors into a piccolo and chose cioccolato bianco, caramelo, and fior di latte (heavy cream). It was fun to sit with Judith and Richard, talking and people-watching as we savored our creamy confections–and all of us were delighted to have found the best gelato in Rome within walking distance of our hotel. We will definitely come back!