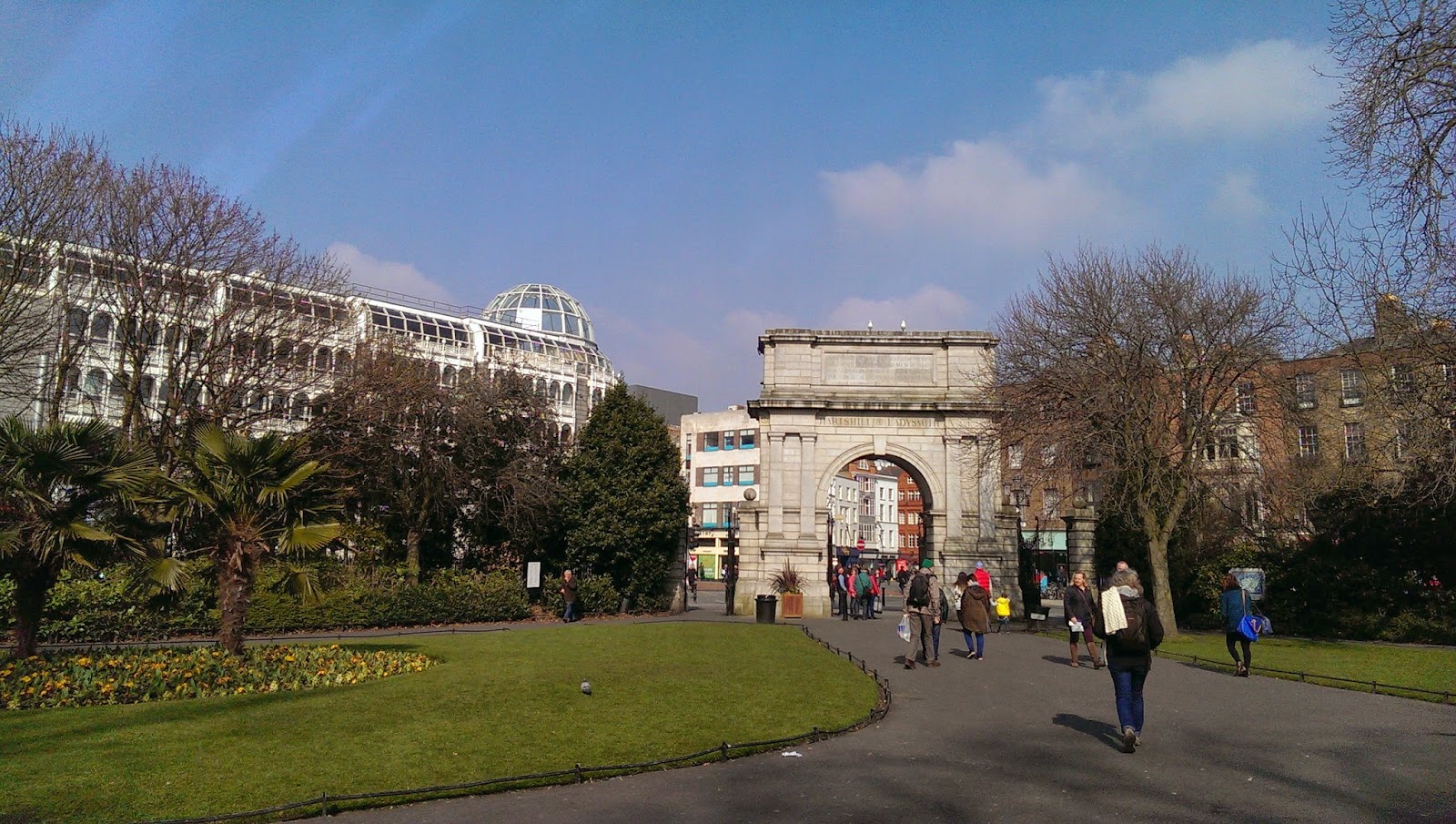 St. Stephen's Green
Rather than taking advantage of his last opportunity for a
full Irish breakfast, Michael opted for the French toast with berries and
yogurt; Nancy went with the continental breakfast. Good choices, both. All the
baked goods served at the Pembroke are made in house, so there is a nice
variety of breads, rolls, and cakes at the breakfast buffet—and always a plate
of fresh cookies at the reception desk. A cookie jar next to the Keurig coffee
maker in the lounge gets replenished frequently, too, so it's probably a good
thing that we'll be here only one more night.
Because the walking we had done last night had not been too
uncomfortable for him, Michael decided that he could handle doing Dublin on
foot today. So, armed with a map and Fodor's recommendations of what to see if
you have only one day, we set off. We headed northwest on Pembroke Road toward
Merrion Square, a tidy green known especially for the well-kept Georgian-era
row houses that surround it. To American eyes, the area looks a lot like old residential
neighborhoods in Boston or northern Virginia. Last Friday, when stalled traffic
drove us off the ring road and through the middle of Dublin on the way to our
hotel, we had noticed detour signs directing drivers away from Merrion Square.
This morning we learned why: some the bordering roads had been closed off for a
St. Patrick's Day street carnival. Concessions booths and ride equipment were
being disassembled there, and clean-up crews were sweeping discarded food
wrappers from the pavement.
Trinity College Library
First on the list of Fodor's recommendations was Trinity
College Library, where the Book of Kells
is on display. "If you don't get here early, you may have to wait in line," the
guidebook warned. Since we also had been told that St. Patrick's Day signals
the beginning of the tourist season, we planned to arrive as soon as the
library opened at 10 a.m. As we approached the college, we counted five tourist
buses disgorging their passengers along the street next to the entrance; there
were probably two busloads already ahead of us when we got in line to see the
famed book.
While we waited for our turn to go inside, we struck up a conversation
with some nearby Americans—yet another newlywed couple from Utah. (Ireland certainly
is a popular honeymoon destination!) These two were not LDS, however; he is an
assistant pastor at a nondenominational church in Salt Lake City. Having just
visited several small LDS congregations in this predominantly Anglican/Catholic
country, we asked them what it was like to grow up as a religious minority in the
heart of Mormondom. We were happy to hear that both had had mostly positive
experiences, and that they appreciated the friendliness and "clean living" of
their LDS neighbors and associates.
Folio of the Book of Kells
After about twenty minutes in line, we were admitted to a series
of rooms containing exhibits that explained the history and significance of the
Book of Kells, one of Ireland's most
valued national treasures, and one of the most beautiful illuminated
manuscripts ever created. The book is a copy of the four Gospels, painstakingly
produced by ninth-century monks who incorporated intricate illustrations into
the text on every page. The exhibit rooms also include displays and information
about the preparation of parchment pages, the plants and minerals used to
produce various colored inks, and a video showing how such a book would have
been bound in the Middle Ages.
The Library's book conservation room
The culmination of the exhibit is, of course, the book
itself, displayed within a glass case under subdued lighting that only adds to its
mystical aura. How has such a fragile work of art managed to survive for over a
thousand years? The manuscript is separated into two volumes, so four pages can
be on view at any one time. One leaf is turned each day, so to see every page
you would have to visit dozens of times. The pages on display today included a
passage from Mark about the woman who anointed Jesus's head with expensive
ointment—largely text, with only small, marginal decorations. The other page
illustrated a single phrase from Matthew 27:38: "There were crucified with him
two thieves." The words duo ladrines (Latin for two thieves) were arranged along the two
sides of a large V-shape pointing toward another large V-shape containing the
symbols for Christ, and these were flanked by boxes crowded with small faces,
suggesting curious onlookers at the crucifixion. Even though the Book of Kells is a volume of scripture, the
scribes who created it didn't limit themselves to depicting Bible stories or
sacred symbols. Many of the manuscript's colorful illuminations resemble the
kind of doodles a bored teenager might make in the margins of his textbook:
fantastic creatures like monsters and dragons, more common animals, plants, and
people, and a lot of embellished letters and decorative Celtic motifs. (We can't
say whether any of those medieval monks surreptitiously scribbled the names of
their girlfriends.) (Click here to see images of more pages from the Book of Kells.)
Painstaking book conservation is a never-ending task at Trinity College Library
This 500-year-old harp is the model
for Ireland's national symbol
(and the Guinness Brewery logo)
Trinity College Old Library
No less awesome is the adjacent Long Room of Trinity College's
old library. Busts of philosophers, authors, and poets line the arched "nave," and
that corridor is flanked by two floors of seemingly endless rows of floor-to-ceiling
bookcases filled with leather-bound volumes—truly an impressive sight. Glass cases
set on tables up the middle of the room currently display examples of children's
books with mythological themes. Among other legendary volumes, we saw early editions
of The Hobbit; The Lion, the Witch, and the Wardrobe; The Boy's King Arthur illustrated by N.C. Wyeth; and Harry Potter and the Philosopher's Stone.
Some of our readers may be gratified to know that copies of Star Wars storybooks and The Hunger Games also merited inclusion
in this august company.
Pond in St. Stephen's Green
Leaving Trinity College, we crossed the street and walked
through St. Stephen's Green. This popular park is filled with statues of famous
Irishmen and the jogging, strolling, and recumbent bodies of the less
famous.
A wall encloses the Iveagh Gardens
Where we met the "cracked nut"
Nearby are the more secluded but equally beautiful Iveagh Gardens, which
had been the private domain of the Guinness family during the late nineteenth
and early twentieth centuries. As we were entering the walled park, an older
woman stopped us and asked if this were our first visit to the gardens. When we
said yes, she asked whether we would mind if she told us a little bit about them.
We didn't mind at all! She told us which way to go to find the waterfall, the rose
garden, and the maze, and then said, "You'll probably be ready for some lunch
after your walk around the park, so may I suggest a good café?" Of course she
could! "The Cracked Nut in Camden Street," she said. "It has the world's
greatest coffee, and very good soups and sandwiches, too. Do you know Camden
Street? It's just through that alley across the way. Come back out this gate when
you leave the park, then go through the alley and turn to your left. The
Cracked Nut will be a little way down the street on your right. Just remember,"
she went on, "that an old cracked nut told you to have lunch there!"
The Maze at Iveagh Gardens
An Art Deco gate near the waterfall
Waterfall at Iveagh Gardens
Rock incline at Iveagh Gardens
The Cracked Nut
We enjoyed wandering around the peaceful gardens, but lunch
at the Cracked Nut was even better. The café specializes in healthy, sustainably
sourced organic foods. We had two superb soups: one a purée of courgettes (zucchini), green peas, and "soft herbs," the
other a purée of carrots and parsnips seasoned with ginger. We also shared a lemon aioli chicken sandwich
and a small plate of assorted salads: kale with citrus dressing, shredded fennel and apple, rocket with roasted
beets, and couscous with orange and mint. For dessert we had a simple but very
tasty piece of carrot cake. The "old nut" at the Iveagh Gardens may have been cracked,
but she knew her food. The manager of the café was delighted to hear the story
of how we found our way to his establishment.
A wide variety of salads at the Cracked Nut
St. Patrick's Cathedral
After lunch, we spent an hour or so in St. Patrick's Cathedral.
Ireland's largest church is built on the site of an ancient well where St.
Patrick is said to have baptized some of his converts, so there are many old artifacts
and relics purportedly made/touched/blessed by him on display. For us, however,
the cathedral's most distinguishing feature is that satirist Jonathan Swift is
buried there. The author of Gulliver's
Travels and A Modest Proposal was
dean of St. Patrick's from 1713 to 1745, and many memorials celebrate his long tenure.
We were intrigued to learn that a tomb not far from his holds the remains of Esther
Johnson, his best friend and confidante—though never his wife—whom he called "Stella." (Click here to read the witty poetic tribute Swift wrote for Stella on her 34th birthday.)
On a wall near St. Patrick's Cathedral
Cathedral coat of arms
Our Lady's Chapel in the apse of St. Patrick's Cathedral
Choir in St. Patrick's Cathedral
Jesus blessing the children
Jonathan Swift wrote his own epitaph
"Stella's" grave marker
Dean Swift watches over a doorway
Ancient burial stone in St. Patrick's
Collins Barracks
We next crossed the River Liffey and headed to the National
Museum of History and the Decorative Arts, housed in Collins Barracks, a huge,
austere former military complex. Nancy especially wanted to see an exhibit
called "The Way We Wore," which details changes in Irish clothing styles from
medieval times to the present. The display includes all types of examples, from
the coarse linsey-woolsey garments made by peasant women, to the frilly fashions
with which eighteenth-century fops flaunted their wealth, to the gown worn by former
Irish president Mary Robinson at her 1990 inauguration. Other galleries in the
former barracks hold vast collections of furniture, silver, china, tools, and
weaponry; it would take weeks of repeated visits to look at everything.
Only the Irish . . .
This is not the tram we took
Not including the walking we had done within the museum,
cathedral, library, and parks, we had traversed nearly four miles on foot so
far today—and Michael's hip was feeling the effects. Fortunately, Dublin's tram line stops at
Collins Barracks, so we jumped on and rode east to a stop near O'Connell Street, the
major thoroughfare we had driven up last Friday evening on our way to the Gate
Theater. The bustling neighborhood between O'Connell Street and Parnell Square is
definitely a different place from the more sedate venues we had been visiting
earlier.
Jonathan Swift
George Bernard Shaw
Our purpose for returning to Parnell Square was to finish
our day at the Dublin Writer's Museum, a shrine to Ireland's surprisingly long
list of major novelists, poets, and playwrights. Jonathan Swift, Bram Stoker,
William Butler Yeats, J.M. Synge, George Bernard Shaw, Oscar Wilde, James
Joyce, Samuel Beckett, and many other writers are represented by busts and portraits,
handwritten correspondence, manuscript copies and early editions of their work,
inkwells, typewriters, and other personal paraphernalia. (Nancy noticed the "No photography, please" sign only after she had already taken some pictures. No one confiscated her camera, however, so we've included a few of the museum's famous faces here.) It was interesting not
only to be able to place each writer in the context of Irish history, but also to learn
more about their lives, their relations with one another, and their influences
on world literature.
Oscar Wilde
When the museum closed, we headed back to the south side of
the river, checking restaurant menus along the way. It was early by Irish dining standards and some
places that looked promising had not begun serving yet, so we ended up at Dunne
and Crescenzi, an Italian bistro that Fodor had endorsed. We shared a house salad and then Michael had
mushroom tagliatelle topped with lamb ragu; Nancy had risotto with asparagus
and black truffles. For dessert, Michael
had scoops of chocolate, strawberry, and pistachio gelato; Nancy had vanilla garnished with sliced pineapple.
Dunne and Crescenzi
By the time we got back to the hotel, we had logged well
over seven miles of walking. Michael was happy to lie down and put his feet up while
Nancy set up her laptop in the loft and wrote a little more for the blog before
we both started packing. Tomorrow we will have to be up very early to catch our flight back to the U.S.

Print Post as PDF